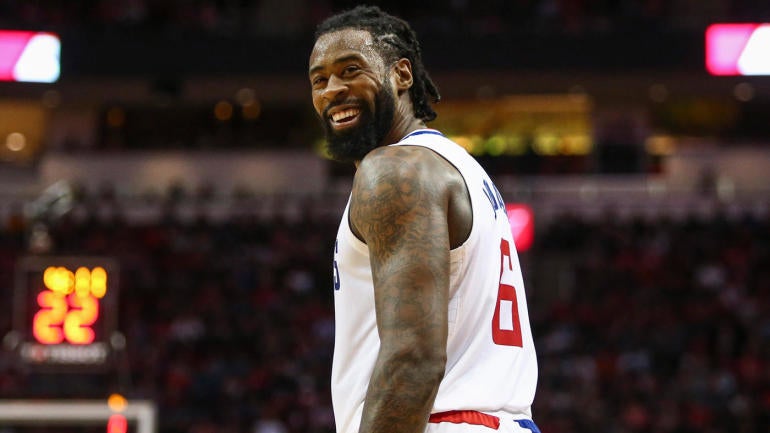 One of the marquee free agents of the summer, DeAndre Jordan of the Los Angeles Clippers may pull a Chris Paul and opt-in to the final year of his contract in hopes of facilitating a trade, according to Marc Stein. One of the teams that have been reportedly interested in the services of Jordan is the Dallas Mavericks, who were spurned by the big-man when he reversed his oral agreement to sign with the franchise after being kidnapped by Paul, Blake Griffin, Doc Rivers and Paul Pierce to return to Los Angeles.
Some speculation believes that this was put forth by Jordan's agent, Jeff Schwartz, in an attempt to increase value of the former All-Star and All-Defensive team selection. Teams will have interest in the high flying big man. After the Marcin Gortat acquisition, the Clippers seemingly are aiming to move on from the last portion of the "Lob City" era.

Los Angeles won't be looking to take back any 2019 salary, based off prior moves by Lawrence Frank and his front office staff, unless it involves dumping Danilo Gallinari as well, a task that is unlikely due to salary constraints. Taking back as little as possible to avoid the repeater's tax will also be key.
In any case, here are three potential suitors for the athletic big man.
1] Dallas Mavericks

Having given the Atlanta Hawks their 2019 first round pick, albeit top five protected, Dallas will look to get back into the playoff picture, a goal that DeAndre would help reach. Cap space is a plenty in Dallas, meaning a trade isn't quite necessary for the Mavericks to bring Jordan to the Lone Star State, however, it would help them preserve cap space, depending on the framework of the trade, to chase other free agents or acquire other players in a trade.
The likely deal that's being thrown around is the Clippers acquiring Wesley Matthews in return, which would save the franchise around $6M and give them some breathing room under the luxury tax threshold, further away from the repeater's tax. Matthews would also give the Clippers another option at small forward, alongside the often injured Gallinari, Sam Dekker and Wesley Johnson.
Dallas might try to get the Clippers to take on JJ Barea in return to maximize remaining cap space, a move that the Clippers front office will challenge. While Los Angeles will surely attempt to get the Mavericks to absorb DeAndre with pure cap space, giving Lawrence Frank a $24M traded player exception to work with.
Likely Deal: If these two teams are to agree to an exchange, I can see it going down as Jordan along with Wesley Johnson heading to Dallas for Matthews, Barea and the Mavericks 2021 second round selection. Clippers save around $8M while Dallas gets the perfect big man to throw with Luka Doncic.
2] Sacramento Kings

Similar to Dallas, the Kings will look to get back into the playoff picture. Unlike Dallas, Sacramento's pick is unconditional with no opportunity, barring a trade, to be retained. Sacramento also has the cap space to help the Clippers on distancing themselves from the threshold.
Question then becomes, what would the Kings be willing to give up for one year of Jordan and his bird rights thereafter. Vlade Divac will definitely make Harry Giles, Buddy Hield and Marvin Bagley II unavailable, leaving Justin Jackson and Skal Labissiere as young guys Frank and company would love to snag.
Likely offer from the Kings will probably revolve around Willie Cauley-Stein along with Zach Randolph and Garrett Temple OR Iman Shumpert and Kosta Kofous. Doesn't save the Clippers much in the way of the luxury tax, however, gives them a look at Cauley-Stein before he hits restricted free agency.
Likely Deal: Jordan heads to Sacramento and the Clippers take back Cauley-Stein, Randolph a bit of cash to potentially buy out Randolph. Saves about $9M while the Clippers had reported interest in Randolph last season, prior to bringing Blake Griffin back.
3] Cleveland Cavaliers

During the deadline, the Cavaliers and Clippers had reportedly agreed upon a trade, looking for a third team to facilitate the deal. Unable to do so in a timely manner, Cleveland made other moves hoping to not only get back into the playoffs, but win another championship. Half of their goal was met, and the Cavs, assuming LeBron James picks up his option or agrees upon a new contract, may look back to adding the defensive and rebounding big.
Unlike other options, the Cavaliers don't have the raw cap space to tempt the Clippers, and will need to use George Hill to gain the attention of Frank. Hill is due to make $19M this year, and $18M next, however, only $1M of that is guaranteed, essentially making him an expiring contract and helping the Clippers preserve cap space. Along with Hill, the Cavaliers don't have much to offer outside of Cedi Osman, Ante Zizic and Larry Nance. All of which are sub-par prospects. Nance would make some sense in giving the Clippers an athletic replacement, who also expires.
Cleveland will try to get the Clippers to take on Tristan Thompson in return, a situation the Clippers balked at during all negotiations and will continue to do so due to the money owned to Thompson. Clarkson and JR Smith may be other pieces Cleveland would want to trade away, however, like Thompson, both are unlikely unless a third team is found, yet again.
Likely Deal: Clippers receive George Hill, Larry Nance and a second round pick in exchange for DeAndre Jordan. Cavaliers get the big they have been coveting, while the Clippers have a valuable contract in Hill they should look to flip due to the glut at the guard slots.