Aftermath of free agency may have topped the insanity of the Battle at the OK Corral, and, finally, it has settled. Here's the post free agency rankings.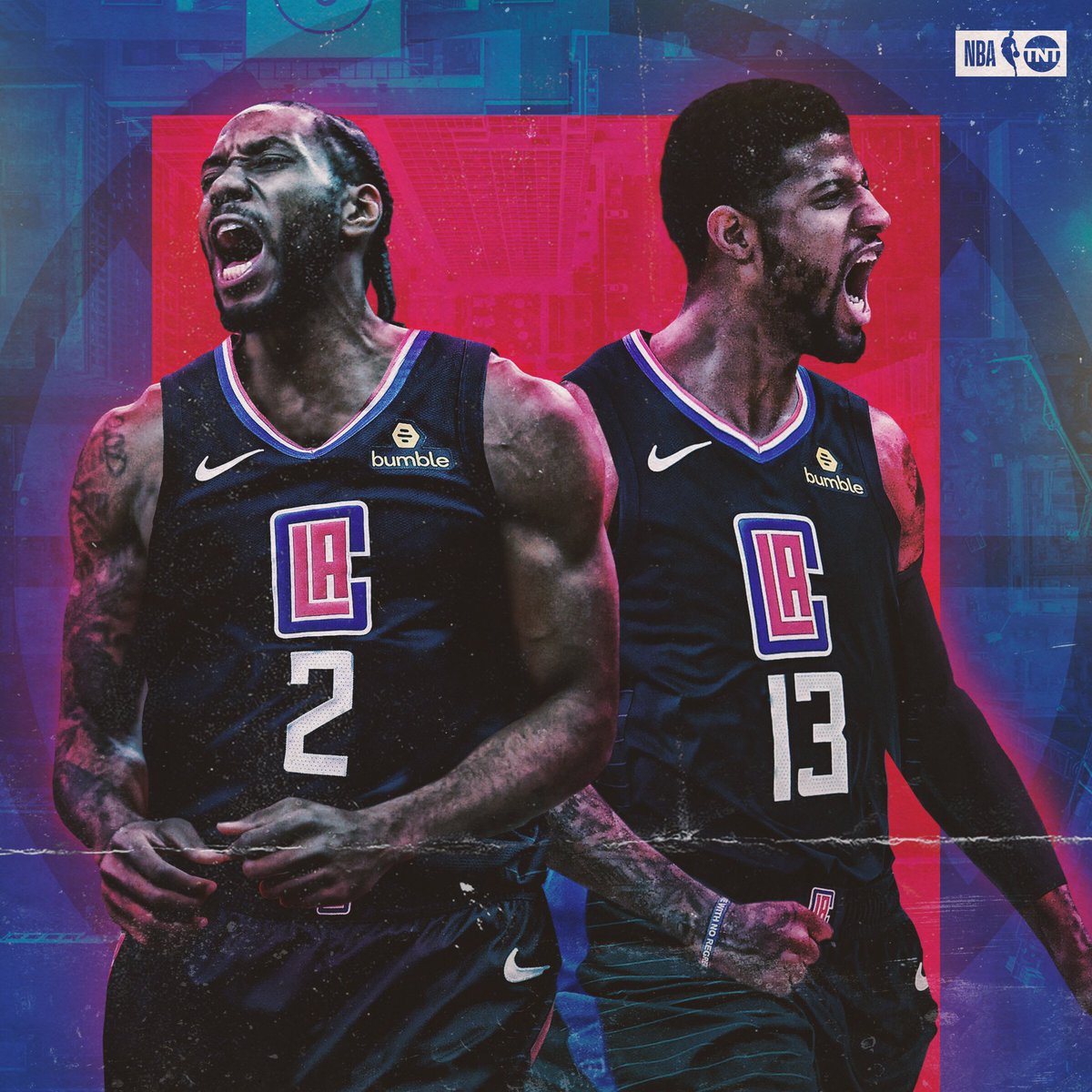 1] Milwaukee Bucks
Departure of Kawhi puts the defending regular season champs atop the Eastern Conference, and the league as a whole. Giannis Antetokounmpo is putting in work all summer and Mike Budenholzer has proven himself to be a an upper echelon coach. The East maybe the Bucks to lose. 
2] Utah Jazz
Not a popular, nor sexy pick, the Jazz quietly had themselves a good summer and may be the best "two-way" team in the association. Mike Conley, if he remains healthy, is a terrific fit next to Donovan Mitchell, while Bojan Bogdanovic gives them another option on the wings. Losing Derrick Favors will sting, however, Ed Davis wasn't a bad consolation pick-up for Quinn Snyder's team.
3] Los Angeles Clippers
A stud filled front office, led by Lawrence Frank and Jerry West, the Clippers shook up the NBA world just hours after a earthquake stalled the Summer League. Not only did the team complete their recruiting trail of Kawhi Leonard, they brought home Paul George, who grew up a fan, while keeping their depth in tact. It wasn't cheap to acquire George, however, the Clippers have made it clear they are pushing all their chips into the middle of the table. 
4] Los Angeles Lakers
Not phased by missing out on Leonard, by mere hours according to some speculation, the Lakers were able to round out the roster well by acquiring experience and shooters to surround the duo of LeBron James and Anthony Davis. Lakers also signed the biggest high reward/low risk player with DeMarcus Cousins for the minimum. Frank Vogel was also a solid selection to take over as head coach.
5] Philadelphia 76ers
A bounce away from an appearance in the conference finals, the Philadelphia 76ers are prepared to make another deep run in the East. Losing JJ Redick and Jimmy Butler is going to sting, however, the addition of Al Horford will pay dividends come playoff time. Keeping Tobias and adding Josh Richardson will provide the support needed for a deep run.
6] Denver Nuggets
Closest team to running it back, the Nuggets didn't need to make news to keep themselves as one of the top teams in the association. With the youth expected to improve, Michael Porter Jr.'s debut being anticipated and adding Jerami Grant, Mike Malone's squad is going to surprise those who overlook them.
7] Portland Trail Blazers
Buying high on Portland, as they retain their dynamic back-court while making some solid moves to bolster their unit. Jusuf Nurkic will take time getting healthy and shaking off rust, and Portland will hope to get Hassan Whiteside to buy into the system, while Anthony Tolliver and Kent Bazemore were nice under-the-radar additions. 
8] Houston Rockets
After getting snubbed by Jimmy Butler wanting Miami, the Rockets acquired Russell Westbrook from a tanking Oklahoma City squad, in exchange for Chris Paul and deep futures. Question of how well Westbrook will fit next to James Harden, due to his lack of a consistent three-point shot, and ball dominance, the Rockets will hope to find a way to make the two mesh. After-all, Harden did push for the trade. Tyson Chandler was also a nice addition.
9] Golden State Warriors
Uncharted territory for the Warriors here, as they don't look like the cream of the crop any longer with Kevin Durant signing elsewhere. Klay Thompson missing time stings as well. The Dubs did a solid job with limited cap space, acquiring D'Angelo
Russell for Durant, and shoring up the unit with Willie Cauley-Stein and Alec Burks. Steve Kerr has an opportunity to show how good of a coach he can be.
10] Boston Celtics
Having Kemba Walker replace Kyrie Irving at the point guard slot isn't going to be as big a sting as many expect, however, the Celtics losing Horford and Aron Baynes can come back to bite them where the sun don't shine. Banking on the development
of Jayson Tatum and Jaylen Brown, Coach Brad Stevens will have to get Walker to buy in while finding a way to integrate Enes Kanter and rookie, Romeo Langford, into the rotation.
11] Indiana Pacers
Despite losing Victor Oladipo, the Pacers held on to the fourth seed in the Eastern Conference last year, and hope to make a similar run until the return of their stud guard. Losing Bogdanovic stung, but the front office did well to bring in Malcolm Brogdon and TJ Warren to the mix. Continued improvement from Domantos Sabonis will also pay dividends.
12] San Antonio Spurs
Counting out a Popovich lead team never seems like a smart move, and it won't be a mistake made here either. with Dejounte Murray returning, the Spurs will look to rely on cohesiveness, chemistry and coaching to make continued strides. DeMarre Carroll and Trey Lyles were solid free agent pick-ups.
13] Brooklyn Nets
Brooklyn may have won NBA media, until the Clippers stunned everyone with the Leonard/George acquisitions, but it won't be a smooth transition for the Nets. With Kevin Durant sitting out the entirety of the 2019-20 season, Brooklyn will heavily rely upon Irving to lead the young guys on the squad. For the Brooklyn faithful, hopefully the end result is better than that of Boston a year prior.
14] Detroit Pistons
With little cap space to work with, the Pistons did well to add some talent to a roster that got ousted by the Bucks in the first round, with Blake Griffin out. Adding Derrick Rose gives Detroit a dynamic guard, who, if healthy, can provide a scoring
punch while Markieff Morris is a good third big, allowing the coaching staff to stagger Griffin and Andre Drummond. Anything they can get from Tony Sell will also be a plus.
15] Miami Heat
Long rumored to be in the Jimmy Butler race, the Heat were finally able to complete the acquisition. To go along with a team that tends to outplay their expected talent level, Miami could be a surprise team in the shallow East. Tyer Herro was a spectacular addition on draft night as well.
16] Toronto Raptors
It's been quite a while where the defending champions start out in the mid teens, but that's precisely what happens when you lose your Finals MVP to free agency. Regardless, the Canadian side has a solid squad, with Pascal Siakam, the reigning
Most Improved Player leading the way along with a unit filled with vets. 
17] Sacramento Kings
Arguably one of the brightest teams for the future, the Kings made some solid additions in free agency, adding DeWayne Dedmon, Trevor Ariza and Cory Joseph. All three are experienced vets who should help further the development of De'Aaron Fox, Harry Giles and Marvin Bagley. Did not like the hiring of Luke Walton, however.
18] Orlando Magic
Orlando snuck into the 8th seed last season, and the result was as expected, as they were thoroughly outmatched by the top seeded Bucks. Depth is a-plenty up front for the Magic, making the x-factor for the side Markelle Fultz. If Fultz can live up to
the hype that made him a top selection, Orlando could be poised to make another appearance in the post-season.
19] Dallas Mavericks
So much relies upon the health of Kristaps Porzingis in the Lone Star State, and how well the Latvian recovers. Luka Doncic will continue to refine his game and the front office has done well to add quality vets in Seth Curry and Delon Wright. Signing Boban Marjanovic isn't to be overlooked either.
20] Oklahoma City Thunder
After losing Russell Westbrook and Paul George, the Thunder are clearly gearing up for the future. Sam Presti has accumulated a war chest that even Danny Ainge would be jealous of. However, talent still remains in Oklahoma to where the Thunder will still battle for a playoff berth. 
21] Atlanta Hawks
Offense isn't going to be an issue for the Hawks, as Trae Young will ensure that points are put on the board. John Collins will also continue his improvements, while Cam Reddish and De'Andre Hunter are expected to contribute as rookies. The other
end of the court will be the Achilles heel for Atlanta.
22] New Orleans Pelicans
In the midst of a retool, the Pelicans will look to let the young guys go through growing pains together, while surrounding them with high quality veterans. Signing JJ Redick away from Philadelphia can bode well, as the sharpshooting Blue Devil alum has yet to miss the playoffs in his professional career. Sadly, all things come to an end. 
23] Chicago Bulls
Still a ways away, the Bulls made some good moves during the summer. Adding Coby White on draft night will pay dividends down the road, while Thaddeus Young and Tomas Satoransky were both under-the-radar acquisitions. While a playoff run may be a bit of a long shot, these Bulls shouldn't be written off.
24] Minnesota Timberwolves
Talent is there in Minnesota, as it always is. Karl Anthony-Towns is a premier big man, Robert Covington may be the league's best 3&D player and Andrew Wiggins could FINALLY put it together. Jarrett Culver was also a nice draft night addition.
However, the depth in the West will keep the Wolves away from the playoffs..yet again.
25] Phoenix Suns
If it were almost any other year, I'd say the Suns would have a legitimate opportunity to sniff the top eight in the West after adding Ricky Rubio, Dario Saric and Aron Baynes in free agency. Unfortunately, for them, it isn't any other year and
the sun will be setting early in the Valley of the Sun. Phoenicians do have a bright future to look forward to.
26] Washington Wizards
Washington could be the best team to buy low on, hoping they eclipse their expected results. John Wall will most likely sit out the entirety of the season, but Washington still has talent with Bradley Beal on the roster. Rui Hachimura had a spectacular summer league, and if the Wizards can get Isaiah Thomas playing like Boston Isaiah, they could battle for a berth in the post-season.
27] Memphis Grizzlies
Grit City seems like so long ago, as Memphis has put an end to tread-milling and put commitment towards a full rebuild with the trade of Mike Conley. Adding Ja Morant and Tyus Jones to Jaren Jackson Jr., and the Grizzlies are in it for the long game.
28] Cleveland Cavaliers
Cavs are still a year away from being two years away, but the addition of John Beilein as head coach to develop the youth will pay dividends years down the road. If Darius Garland can live up to his potential, and Kevin Porter Jr. keeps his head level, Cavs could have the building block for years to come.  
29] New York Knicks
Going from Zion, Durant and Kyrie to Julius Randle, RJ Barrett and Elfird Payton in the mecca of basketball wasn't what the fans had hoped for. Still, hope exists for the future with Alonzo Trier and Mitchell Robinson having solid rookie campaigns
and Kevin Knox + Barrett having potential for days. 
30] Charlotte Hornets
Losing Kemba was unfortunate for the Hornets, but nothing was as head scratching as giving Terry Rozier that huge contract in return. At least Charlotte fans will have the opportunity to see the development of Miles Bridges and PJ Washington.