After a disappointing start to the European 2020 qualification cycle, the Armenian National Team was able to bounce back with a 3-nil victory over, fellow minnows, Liechtenstein in Yerevan. A game, which they dominated from the get go behind a spectacular pass from center back, Varazdat Haroyan, at the middle of the pitch, to Gevorg Ghazaryan just 90 seconds in to a finish by Tigran Barseghyan in the first minute of stoppage time.

It wasn't all pretty for the hosts, however, as Taron Voskanyan, Haroyan's partner in the center back slots, made a few errors that nearly resulted in finishes for the visitors. In all honesty, those errors would have ended up in the back of the net, had Armenia been playing a formidable opponent, which they will in just over 12 hours as they travel to Greece.
Around Group J, Armenia got some help as the Italians defeated their next foes by a tally of 3-nil, leaving second place within reach. While Teemu Pukki netted a brace and put Finland atop Bosnia & Herzegovina 2-0.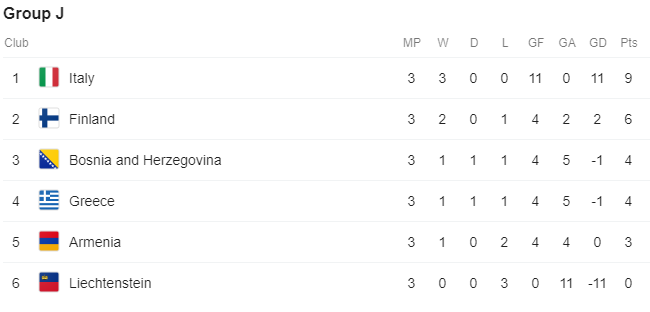 Facing a tough task, Armenia has faced Greece four times in the past, without netting a victory, let alone a goal. A scoreless draw being the only positive result, while Greece has taken three victories behind four goals. Historically, a good defensive side, the Greeks have allowed seven goals in their past four games. Taking away the Italy game, they have allowed four in the prior three with Bosnia & Herzegovina and Turkey each netting two.
It will be of no surprise when the Greeks throw skipper, Sokratis Papasthathopoulous on Armenia's skipper, Henrikh Mkhitaryan to neutralize the visitors most versatile and biggest threat. Papa knows Mkhitaryan's games and tendencies well, as both play for Arsenal in the English Premier League after spending time together with Borussia Dortmund in the German Bundesliga.
As a result, Armenia's going to rely heavily upon it's strikers and mid field players to take advantage of the space opened up by the marking of Mkhitaryan, while delivering crisp passes to the skipper.
Defensively, the visitors need to be ready for Greek counter attacks, nipping them in the bud. If the midfield can maintain possession and pressure on the hosts, helping relieve the defense, dividends will be paid off.
Biggest potential concern for Armenia, on the defensive third, may be who starts next to Haroyan. Top choices, Andre Calisir (wedding) and Gael Andonian (personal) aren't available on the bench. Voskanyan isn't one the fans want to see spend ninety minutes on the pitch. Hayk Ishkanyan seems to be the best option for Armen Gyulbudaghyants.
Here's the unit I'd run out: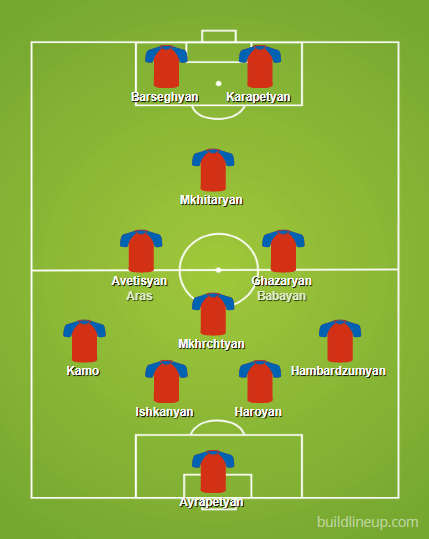 Unlike the 4-2-3-1 utilized against Liechtenstein, I'd put Barseghyan up front with Karapetyan, putting more pressure on the Greeks stout defense. Karapetyan does a solid job holding possession, while being an underrated facilitator in the attacking third.
In the middle, Mkhitaryan will be given the responsibility of the midfield, with Ghazaryan and Avetisyan going down the flanks. Ghazaryan and Avetisyan will also be expected to help the defenders out in nipping counters. Mkrtchyan will be expected to maintain possession and helping out the center backs.
Defensively, Ishkanyan and Haroyan will need to stand their ground well while Kamo and Hambardzumyan need to show their intelligence and awareness when going forward, while recovering at a top level. They won't be able to get away with staying in the attacking third as they were against Liechtenstein. Ayrapetyan also did well against Liechtenstein, and I'm not a fan of changing keepers after they had a good showing.
When it comes to subs, Ozbiliz could provide playmaking off the bench, if the Greek defense ends up being too heavy. Babayan will provide fresh legs and pace to aid in getting one in the back of the net. I'd leave the third sub open, depending on how the game progresses. Artak Grigoryan would probably be my choice to bring in some veteran leadership and a defensive presence if Armenia are able to take a lead, possibly for Karapetyan and dropping back down to a 4-2-3-1 with Grigroyan and Mkhrtchyan holding down the DM roles.
Final prediction of the game is going to be a 1-1 draw, which is a positive result. Anytime you can take a point on the road, namely as an underdog, you go for it. Being able to net all three, obviously, remains the goal.
Around Group J:
Bosnia & Herzegovina will make the trip to Italy. With the Italians being favorites, and having a three point lead over second place, at this point, a victory by them will be preferred for the Armenians. Which is a result they should net, as they are yet to allow a goal in three group games.
Finland travels to Liechtenstein, in what should be an easy victory for the Fins. Only question is, by how many goals?