When the Houston Rockets acquired Chris Paul two years ago, expectations were to dethrone the Golden State Warriors dynasty. A goal that was nearly accomplished in 2018, as the Rockets seemed to have the edge in the Western Conference Finals. Then, the annual Paul-playoff injury occurred. Fast forward to 2019, and the Rockets lost in six to Golden State in the Western Conference Semi-Finals, which led to Paul and James Harden having words afterwards.
It got as far as Daryl Morey, the Rockets General Manager reportedly is open to shaking up the roster, leading to speculation from Adrian Wojnarowski speculating that Paul may be available, as with every player under contract. Those names include Clint Capela and Eric Gordon, both of whom may have value with numerous sides. Morey and Coach Mike D'Antoni also failed to agree on a contract extension, as talks stalled.
Sources: In calls to front offices, Houston GM Daryl Morey is showing an aggressive desire to improve roster with all players and picks available in talks. Hard to imagine James Harden scenario, but the rest under contract – perhaps even Chris Paul – could be moved in right deal.

— Adrian Wojnarowski (@wojespn) May 29, 2019
As one can imagine, the Paul rumors exploded throughout the NBAverse, leading speculation to what teams will take on his contract, if he can still play, and where he could go without ending up being toxic for the locker room. All that fun speculation may come to an end, after Morey replied to a fan on Instagram that stated "Ok, so CP3 staying confirmed."
To which, Morey replied using one word: "Confirmed" (Pic tweeted by Alykhan Bijani @Rockets_Insider)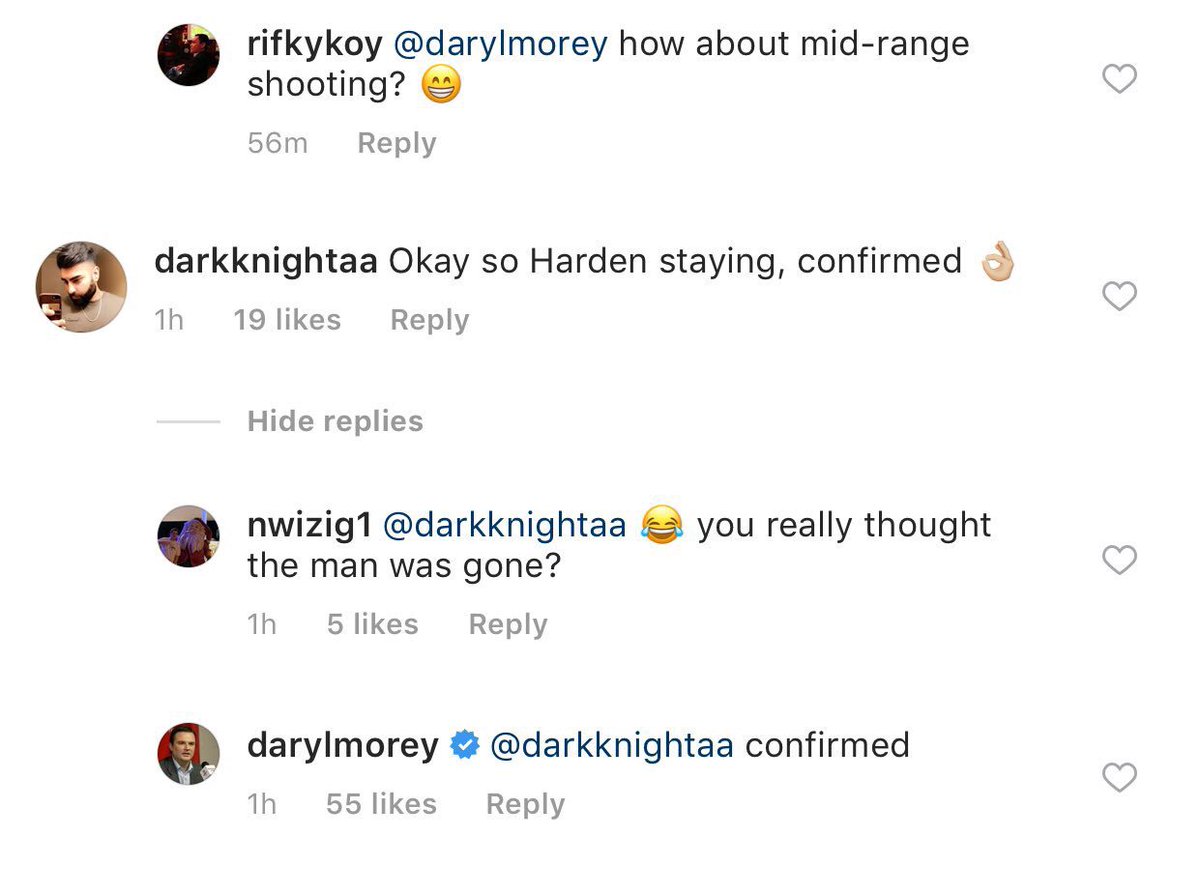 Pretty boring to just end the speculation as is, so let's keep them going and discuss four possible moves:
Run It Back:
Despite losing in the WCSFs, the Rockets fought the Warriors as well as anyone else did, as every game was relatively close. A 50/50 ball going the Rockets way, a shot being on target instead of just off, a missed call and such could have flipped the script. Paul may not be getting younger, but it's unlikely Houston is able to net enough in a trade to keep them competitive as they would if they simply held on to the services of the point guard.
Boston Celtics
 It seems to very unlikely that the Celtics retain the services of Kyrie Irving, as the point guard is linked with the New York Knicks, Brooklyn Nets and Los Angeles Lakers, while having dropped some clear hints that he may be interested in heading to Sunny Southern California to reunite with LeBron James after winning a title together in Cleveland.
 Leaving Boston with a hole at the point guard spot, with Terry Rozier also being a free agent. Paul would be a spectacular fit for the boys in green, as they look to claw back into the Eastern Conference contender picture. Paul's ability to facilitate would pay dividends for the Boston wings in Jayson Tatum and Jaylen Brown, while his defensive efforts would be welcomed against Eastern foes like Kyle Lowry and Eric Bledsoe, his former backup.
What's The Deal: Gordon Hayward, Guerschon Yabusele, #22 for Paul & Houston Future Second
Why for Boston: Take on the extra year of Paul, but open up the wings for Brown/Tatum while moving on from Hayward.
Why for Houston: Shed a year off of Paul, along with $3M in savings this year and $7M the following. Hope Hayward can somewhat return to his former self and.
Phoenix Suns
Phoenix would be taking on a huge gamble, hoping to get Paul to buy into helping the youth develop while taking the next step and making it to the playoffs in the daunting Western Conference. At his age, Paul may not want to go from a fringe title contender to a side that didn't crack 20 wins the season prior.
At the same time, taking a 20-win side to the post season would show the amount of skill, talent and poise that Paul carries with him and Phoenix could still make moves to put themselves in a situation to pull an upset or two during the 19-20 season before taking a big leap in 20-21.
What's The Deal: Tyler Johnson, Josh Jackson, #32 for Paul
Why for Phoenix: Dip into $12M of raw cap space on the year, but keep the 6th overall pick and maintain enough space to add a solid free agent. Move on from Josh Jackson as well.
Why for Houston: Add an early second, giving them a cheap player, while Tyler can be a band-aid point guard, while they aim to develop Josh to reach his potential. Also save $12M this year, $33M the following year and wipe off Paul's $44M during the last year of his contract.
Los Angeles Lakers
Despite adding LeBron James, the Lakers missed on making the playoffs. Some luck came their way during the chaos of the draft lottery, moving them up to the fourth slot. Adding Paul would only occur if the Lakers were to strike out on every free agent and James pushed the front office to acquire his banana boat buddy. Being a Clipper fan, I'd love to see the Lakers give up all cap space to acquire Paul, as it's a move I firmly believe the Lakers shouldn't make.
But, in a panic, to appease James, I could see it going down.
What's The Deal: Lonzo Ball, Moritz Wagner for Paul, Houston 2020 First (Top 10 & 25-30 Protected > Top 7 and 21-25 Protected > Two Seconds)
Why for Los Angeles: Appease James, add a "star" if free agency is unfruitful.
Why for Houston: Wagner is a good fit with his ability to shoot, save a ton of money and hope Ball works with Harden.