With social media continuing to take over, athletes and celebrities tend to drop hints through their personal accounts. Such as Eric Bledsoe when he "didn't want to be here," before being traded away from Phoenix. No one believed that Bledsoe was referencing to being in a barber shop, as he claimed.
Or the umpteen times celebrities/athletes have claimed to have had their social media accounts hacked after something was posted.
Fast forward to today, when Patrick Beverly joined the fray.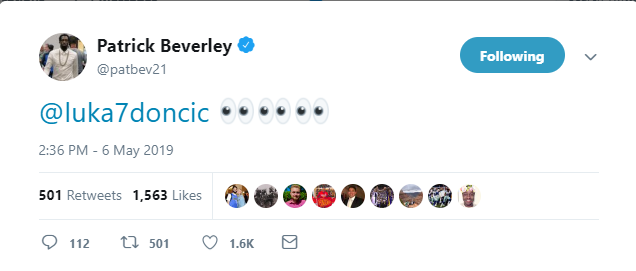 An unrestricted free agent, Beverly was an integral part of the Clippers winning over 40 games and clinching a spot in the Western Conference playoffs, after most pundits had them circled in for 30 or so victories. It didn't stop there with Beverly, as he was the emotional leader for the Clippers taking two games from the Golden State Warriors, the biggest favorites in over three decades to take a series. One of which was a 31-point comeback on the road.
Adding fuel to the fire, the post was liked by the Dallas Mavericks young forward. Beverly would be a great fit alongside Doncic and Kristaps Porzingis, and the Mavericks have the raw cap space to bring Beverly back to the Lone Star State with a nice offer.
Marc Stein of the New York Times stated that the organization has had internal discussions in regards to the free agent status of Beverly, to pester the oppositions guards, much like he did in Los Angeles.
It's going to be a fun summer, so go ahead and buckle your seatbelts!!