Draft night came and went with fans overrating their new additions, while, others are greatly unhappy. Both situations ended up happening with the Clippers, as they came into the evening holding the 12th and 13th overall selections.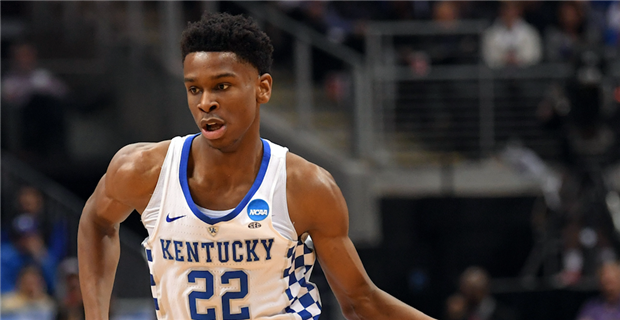 Shai Gilgeous-Alexander (11th Overall Selection, Trade)
Clippers were enamored with Gilgeous-Alexander, and needed to make a trade in order to move up and acquire the services of the Kentucky point-guard. In a move with the Charlotte Hornets, the Clippers surrendered two future second round picks, along with the 12th overall selection (Charlotte used on Miles Bridges) to move up the single slot.
Not only is Gilgeous-Alexander a tall point guard, standing at 6'6, he has length, with a wingspan reaching seven feet, which isn't quite Boban Marjanovic but still nice. Should be able to use his length to his advantage to disrupt the opposition on defense and get his finishes in the paint.
Needs to work on his ability to hit a jumper consistently, especially off the dribble and his facilitation timing and Gilgeous-Alexander could end up being the best point guard out of this draft (well, behind Doncic).
Grade: A. Jumped for joy as soon as I read the trade, however, think the Clippers could have given up a single future second.
Jerome Robinson (13th Overall Selection)
A bit of a surprise pick here, especially with Michael Porter Jr., once the consensus top prospect, still available on the board. But if Jerry West really likes a player, you need to sit back and listen to The Logo. Took the Clipper fans from a high to a definite low.
Robinson has the ability to knock down a shot from nearly anywhere on the court, with the ability to facilitate the pick and roll. Robinson averaged 20.7 points a night for Boston College, hitting 48.5% from the field and 40.9% from range while making 2.3 per game. If he can learn to defend at the next level, he could be an impactful player.
Grade: C- / Incomplete. Don't like this pick as of the moment, but need to give West a chance.

Angel Delgado (Two-Way Contract)
Similar to last season, the Clippers front office wasted very little time signing undrafted guys to join the team in Vegas and with the Agua Caliente Clippers. Delgado is a sturdy big man that gives the franchise a rebounding option in the low post, after-all, he had a 24 point and 23 round game against the Kansas Jayhawks in the second round of the Big Dance. Averaged 13.6 points and 11.8 rebounds per night as a senior.
Grade: A. Fits a need for the franchise, and so far, they have done very well with their two-way guys (Tyrone Wallace, CJ Williams & Jamil Wilson).

Desi Rodriguez (Undrafted)
A summer league invite, Rodriguez showed a solid scoring arsenal next to Delgado for Seton Hall during his senior campaign, scoring 17.5 a night while connecting on just under 50% from the field. Does need to work on his consistency from behind the arc, hitting 1.8 per night at 37.3%.
Grade: B+. Considering he's just an undrafted free agent, the Clippers took a chance on a guy that could earn his way into the big leagues.