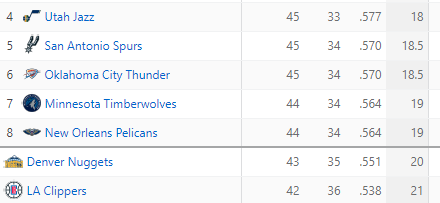 Every game is absolutely vital for the Clippers, and as much was shown as they came back from a 19-point deficit against San Antonio on Tuesday evening to keep their bleak playoff hopes alive.

In all honesty, the Clippers shouldn't even be in this situation. Patrick Beverly has missed nearly the entire season. Danilo Gallinari keeps finding new ways to get injured. Blake Griffin fought injuries and was traded, Avery Bradley, who was a key part of the Griffin deal, is out for the year. Milos Teodosic and Jawun Evans have missed time. Even iron man, DeAndre Jordan, missed games due to injury.
Still, the Clippers are scratching and clawing to get into the playoffs. According to FiveThirtyEight, the Clippers have a 20% chance to sneak in. Here's a breakdown of the Clippers remaining games, along with their opponents.

4/5 @ Utah, 4/7 vs Denver, 4/9 vs New Orleans, 4/11 vs Los Angeles
Three of the final four games for the Clippers are at home, and three of them are against teams just ahead while the finale is against the cross-hall Lakers, who Clipper fans will need to be rooting for until then, as the Lakers can aid the Clippers, such as on Wednesday evening when they held off the San Antonio Spurs.
Any loss, and the Clippers can kiss their playoff hopes good bye.

4/5 vs Minnesota, 4/7 @ Clippers, 4/9 vs Portland, 4/11 @ Minnesota
Just as the Clippers, Denver controls it's own destiny. If they can sweep the Wolves, they will leapfrog them in the loss column, and those two games may very well determine their faith. A win over the Clippers will also give them one less opponent to worry about for the playoff hunt.

4/6 @ Phoenix, 4/7 @ Golden State, 4/9 @ Clippers, 4/11 vs San Antonio
Sitting snugly in the 8th seed, despite the loss of DeMarcus Cousins, New Orleans can not have a slip up against the Suns. It is to be seen what line-up the Warriors throw on the court against the Pelicans, which could give them two victories before they head on down to the Staples Center.
4/5 @ Denver, 4/6 @ Lakers, 4/9 vs Memphis, 4/11 vs Denver
Remember when I said Clipper fans will be rooting for the Lakers a few more times this season. When Minnesota heads on down to Los Angeles on Friday, a day after a high altitude game in Denver, Clipper fans need to hope for a Laker victory. Minnesota does have a, what should be, lock win against Memphis on the slate.

4/7 @ Houston, 4/9 @ Miami, 4/11 vs Memphis
Houston and Memphis are two games that the Thunder should, in theory, take as Houston as locked up the top seed in the league while Memphis wants to remain deep in the lottery. Miami should be the lone tough game for Russell Westbrook and company, making it relatively impossible for the Clippers to leapfrog Oklahoma City.
4/7 vs Portland, 4/9 vs Sacramento, 4/11 @ New Orleans
San Antonio dropped two key games in Los Angeles, and is waiting to officially clinch a playoff spot. Like the Thunder, it isn't likely the Clippers are able to catch San Antonio, but will be relying on the Spurs to net a victory in New Orleans to cap off their season.

4/5 vs Clippers, 4/8 @ Lakers, 4/10 vs Golden State, 4/11 @ Portland
Another team the Clippers aren't likely to catch, but possibly can. A victory on Thursday evening is an absolute must for Los Angeles, as they'll hope Utah drops all four to give the Clippers a chance at another team falling out.