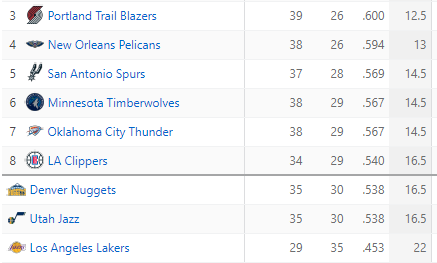 Thursday went as expected for the Los Angeles Clippers, as the Minnesota Timberwolves and San Antonio Spurs both dropped their contests, while the Oklahoma City Thunder dispatched the Phoenix Suns. Clippers are holding on to that 8th seed for dear life, but are just one back in the loss column from 5th and two overall.

March 9th provides us with four games to keep an eye on while the Clippers look to take care of business against the Cavaliers at home. A win here is absolutely crucial for the Clippers, to keep ground ahead of both the Denver Nuggets and Utah Jazz in the loss column. Clippers are a one point favorite.
Speaking of the Utah Jazz, they visit a tanking Memphis Grizzlies side who have lost 15-in-a-row and have no plans on slowing down their quest to have the most ping-pong balls. Unfortunately for the Clippers as Utah is 9 point favorites.
The Nuggets will be hosting the Lakers, who have been pretty good recently as they look to bounce back from a loss against the Cleveland Cavaliers. With slight playoff hopes, Los Angeles won't be giving the game up easily despite Denver being seven point favorites.
New Orleans may not have Anthony Davis as it hosts the John Wall-less Wizards on Friday, and will look to extend it's 10 game win streak furthering it's ascend into the top of the conference. Washington is in the midst of a battle for home-court in the Eastern Conference, and won't make it easy for the Pels, who come in as three-point dogs.
Like New Orleans, Portland has won eight in a row, hoping to make it nine as a Stephen Curry-less Warriors make the trip to Oregon, as one point favorites.