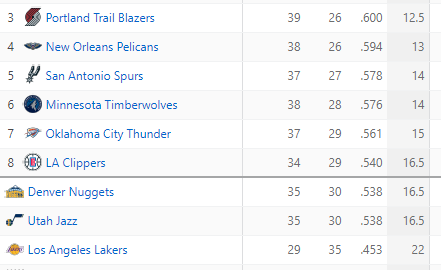 The Western Conference is as tight as could be, as the third seed is separated by a mere four games with the 10th seed. Los Angeles is currently sitting in a virtual tie for the eight seed while being three games out of the third seed in the loss column and one behind the sixth seed in the loss column as well.
Games to watch on March 8th:
Minnesota Timberwolves host the Boston Celtics on TNT:
A big game for Clipper Nation to keep an eye on, as a Minnesota loss will tie the sides in the loss column and put the Clippers to within two of the current sixth seed. Minnesota has dropped the last two, here's to hoping for three. Tom Thibodeau has done a solid job with the Wolves.
San Antonio Spurs visit the Golden State Warriors on TNT:
Second of TNT's double header is another big game for the Clipper faithful. A Warriors victory would push the Clippers to one back in the loss column and two back overall of the current fifth seed. No one would've expected a Gregg Popovich team to be in jeopardy of missing the playoffs, let alone, of reaching the 50-win mark.
Oklahoma City Thunder host the Phoenix Suns:
Phoenix is in the midst of a tank battle, making them a long shot to win, let alone want to win, tonight's match against the Thunder. Clippers are currently tied in the loss column with the seventh seeded Thunder, and an upset Phoenix win would put the Clips ahead in the L column and one back overall.