Shocked. Apalled. Shellacked. Disgusted. Dissapointed. Heartbroken. Nasueated.
All of those emotions came to mind when I first found out the Los Angeles Clippers had traded the most iconic player in the franchises history (at least in L.A.). Those feelings intensified while I read that the Clippers also gave up Willie Reed (and Brice Johnson) while taking back the contract of Boban Marjanovic along with Avery Bradley, Tobias Harris, the Pistons 2018 FRP and the Pistons 2019 SRP. It go even worse when it was revealed that the 2018 FRP was Top-4 protected, essentially ensuring that if Detroit tanks it out, Clippers won't be able to snag DeAndre Ayton, Luka Doncic or Marvin Bagley.

What's done is done, however, and as fans, nothing will be done about crying over spilled milk. Just thank Blake Griffin for putting the franchise on the map and helping the Clippers get a win over the New Orleans Pelicans, despite knowing his time in Los Angeles was on the way out. For that, and your countless Kia commericals, I thank you Blake Austin Griffin (wait, his middle name is Austin? Can we somehow change the paperwork to the Pistons taking Austin Rivers?!?).
It's time for the Clippers Faithful to put our trust in Steve Ballmer, Lawrence Frank and the logo himself, Jerry West as the organization is without a franchise player for the first time since June 25th of 2009.
Speculation has it that the front office has their eyes set on making a run for LeBron James, a target of virtually every team in the league, ranging from the Lakers to the Houston Rockets and upstart Philadelphia 76ers. Oh yeah, the Cleveland Cavaliers aren't going to be in a rush to let him go, for the second time.
Well, I say forget LeBron.
Yes, you said that right. Forget LeBron. He's an amazing player, proving that he has great longetivity, but he will be 34 by the conclusion of the 2018-19 campaign and the Clippers will have to do a lot of manuevering to even make that a possibility. It would most likely mean LeBron would be surrounded by Patrick Beverly and a bunch of rookie talent.
One more time just for good measure.
FORGET LeBRON CLIPPER NATION.
No disrespect towards James, but let's deal in reality.
Looking forward now, the Clippers projected depth chart looks something like:
CE: DeAndre Jordan | Montrezl Harrell | Boban Marjanovic
PF: Tobias Harris | Sam Dekker
SF: Danilo Gallinari | Wesley Johnson | Tyrone Wallace | CJ Williams
SG: Avery Bradley | Lou Williams | Sindarius Thornwell
PG: Milos Teodosic | Austin Rivers | Jawun Evans | Patrick Beverly
Impeding free agents include; Avery Bradley, Lou Williams, Montrezl Harrell (R), C.J. Williams (2-Way) & Tyrone Wallace (2-Way). Milos Teodosic, Wesley Johnson, Austin Rivers and DeAndre Jordan can join in as they have early termination options.
Jordan and Lou Williams are both, reportedly, on the block. Bradley may also be sent out if the Clippers are unable to secure a reasonable extension and want to accumulate more youth and picks. Leaving the equation of just who will take the court to be a giant question mark.
Why wait until 2019 you ask. Here's a list of the potential free agents: Kyrie Irving (P), Spencer Dinwiddie, Kevin Love (P), D'Angelo Russell (R), Nikola Jokic (R), Klay Thompson, Kevin Durant, Myles Turner (R), Hassan Whiteside (P), Karl-Anthony Towns (R), Kristaps Pornzingis (R), Paul George, Devin Booker (R), Kawhi Leonard (P).
Now, all of those guys hitting free agency together is extremely unlikely. Even more so considering some will exercise their options to sign long-term contracts this summer, while others will sign extensions prior. It also isn't a guarantee to net anyone on the list.
---
Now, here are the trades I would make, with the reasoning behind it.
1] Three team trade with Charlotte and Cleveland
Charlotte Trades: Dwight Howard, Malik Monk, Michael Carter-Williams and 2020 SRP in exchange for Iman Shumpert, Channing Frye, Cedi Osman, Derrick Rose and a pick-swap option for Brooklyn's First (2 & 3 Protected)
Why for Charlotte: The Hornets are reportedly in the midst of a fire-sale, and they use Monk to rid themselves of Dwight's guaranteed second year. They do bring in Cedi Osman, a touted Cleveland prospect to quasi-replace Monk. Iman Shumpert may opt out of their contract next year, as he may not be happy to be a part of a rebuild while Derrick Rose can just be cut. Channing Frye is having an okay season and the Hornets may be able to finnagle a trade to a contender for a SRP or something. Charlotte also increases their chances of landing the top overall pick.
Cleveland Trades: Cedi Osman, Channing Frye, Derrick Rose, Iman Shumpert, Brooklyn's First Swap Option (2 & 3 Protected) for DeAndre Jordan, Michael Carter-Williams and Sam Dekker
Why for Cleveland: The Cavaliers have been speculated to be a fan of DeAndre Jordan, reportedly chasing the Clippers stud big. for quite a while. Holding the deal hostage is the Cavaliers reluctance to give up the coveted Brooklyn pick and the Clippers refusal to take on Tristan Thompson. While Cleveland is stuck with Thompson here, the Cavaliers give up the Nets selection but guarantee themselves a lotto return at worst. Sam Dekker gives the Cavaliers a slasher that isn't afraid to bang in the post, while Carter-Williams gives them a healthy point guard, albeit, a questionable fit.
Los Angeles Trades: DeAndre Jordan, Sam Dekker for Dwight Howard, Malik Monk and the Hornets 2020 SRP
Why for Los Angeles: With the front office stating that they aren't looking to bottom out, Howard gives the Clippers a solid option up front for the remainder of the season, and hopefully he can continue that play onto the 2018-19 campaign. The Clippers also get a look at a nice shooting guard prospect in Malik Monk, hoping the youngster can develop into the player he was once projected to be.
2] Lou Williams on the move again.
Oklahoma City Trades: Kyle Singler, Terrance Ferguson, Alex Abrines, 2018 & 2019 SRP for Lou Williams & Wesley Johnson
Why for Oklahoma City: The Thunder finally rid themselves of Kyle Singler, and get an absolute efficient guard off the bench to run the offense when Westbrook takes a breather. Williams' underrated ability to facilitate gives Coach Donovan the perfect partner to stagger Carmelo Anthony or Paul George into the second unit with as the Thunder hope they have the fire power to upset the Warriors. To follow up, Wesley Johnson also gives the Thunder a defensive presence, after the injury of Andre Roberson at the wing slots.
Why for Los Angeles: While they may not snag a FRP for Lou Gotti, Terrence Ferguson is a nice prospect to get back. An athletic and lanky wing man, Ferguson has been developing his jumper and seems to have good awareness on the court. Abrines expires next year, while Singler's final tally is a team option, keeping the Clippers flexibility wide open in the summer of 2019.
3] Avery Bradley's stay in Los Angeles is short
Jason Smith, Thomas Satoransky (or Jodie Meeks), Top-19 Protected 2018 FRP (if not conveyed, Clippers get 2018 SRP) for Avery Bradley
Why for Washington: Give up a heavily protected pick to add a defensive guard to the rotation, while clearing up a bit of salary for the following season.
Why for Los Angeles: Clippers hope to add another late teens pick, if not, they get to draft and stash a player in the second round around where they got Evans/Thornwell while getting another 2018-19 expiring contract, allowing them to conserve all the possible 2019 Summer Space.
Clippers would then decline the third year on Kyle Singler, while waiver and/or stretching him to give them the flexibility of adding C.J. Williams or Tyrone Wallace to the roster as a converted contract (the Patrick Beverly DPE gives them an additional roster slot).
Updated Roster:
CE: Dwight Howard | Montrezl Harrell | Boban Marjanovic
PF: Tobias Harris | Jason Smith | Kyle Singler
SF: Danilo Gallinari | Terrance Ferguson | CJ Williams | Thomas Satoransky (or Jodie Meeks)
SG: Malik Monk | Tyrone Wallace | Sindarius Thornwell | Alex Abrines
PG: Milos Teodosic | Austin Rivers | Jawun Evans | Patrick Beverly
While that roster may not win very many games for the remainder of the year, they'll remain quasi-competitive (assuming Gallinari doesn't get hurt) while having two good wing prospects to develop.
Salaries look like: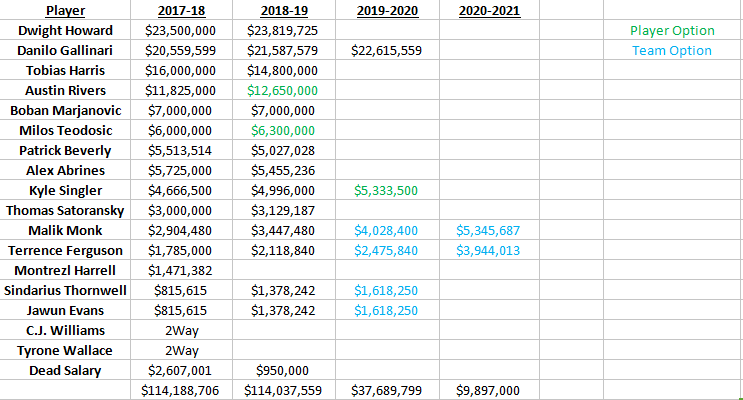 While the Clippers draft pick situation looks like:

Now, this does leave the Clippers with a huge issue come this summer, as they will need to open up roster space to accomadate the slew of draft picks they may have on draft night. Though, the fact that the majority are expiring contracts can lead to buy-outs, not hurting the 2019 hopes.
Will it happen? Who knows but at this point #InWestITrust.