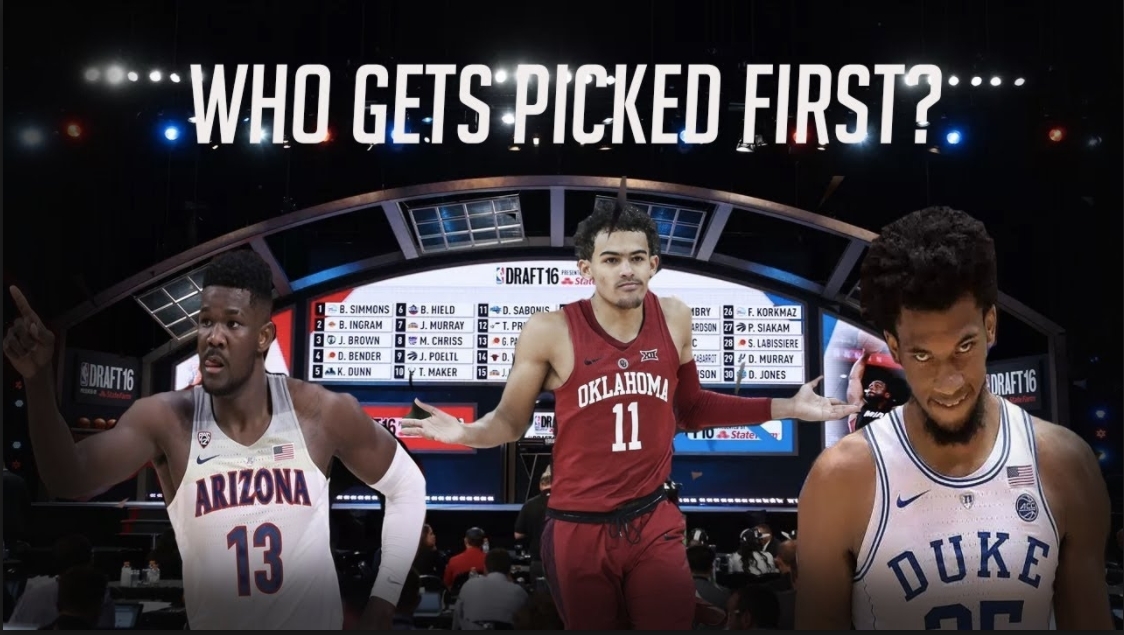 A draft thought to be top heavy with franchise prospects is just around the corner for the NBA, as teams are going to be gearing up for a late season tankathon to try to secure one of these bright, young men.
Using the Tankathon.com lottery simulator, with standings good prior to the January 24th games, I present the first edition of my 2018 NBA mock draft.
1] Orlando Magic select DeAndre Ayton out of Arizona
-Ayton is having a spectacular season down in Tucson, and the big man is ready to contribute from day one. Ayton would be set to join fellow Wildcat alum, Aaron Gordon, who is a restricted free agent that the franchise wants to keep. Putting up 19.7 points on 62.9% from the field, while grabbing 11.1 rebounds, it's a no-brainer for Orlando. Does need to work on his defensive motor at times.
2] Dallas Mavericks select Marvin Bagley out of Duke
-While Dallas will be wondering if Dirk Nowitzki will be back for one final year, they add a high energy big man tailor made for the modern NBA. Bagley, who reclassified to be a part of the 2017 class, is putting up 21.6 points on 60.7% shooting while grabbing 11.5 rebounds a night for Coach K's side. Throw him out there with Dennis Smith Jr., and the Mavs will be entertaining.
3] Memphis Grizzlies select Luca Doncic from Real Madrid (Spain)
-Jumping up from the 5th projected slot, the Memphis Grizzlies take the point forward from the Slovenian, as they aim to get back into the Western playoff picture. An amazing facilitator, Doncic would be the perfect compliment in between Marc Gasol and Mike Conley Jr., assuming Memphis retains the two.
4] Sacramento Kings select Trae Young out of Oklahoma
-Young exploded onto the draft board with his spectacular play for the Sooners, and may be the most searched collegiate athlete of the year. Not only is Young scoring over 30 a night, he's shooting 45.1% from the field and 40% from the arc! Toss in his 9.6 assists, and you have yourselves a gunner made for the NBA. He does still have a ways to go, as the youngster does turn it over 5.2 times, including turning it over a dozen times against Kansas State and 9 times versus TCU. Despite taking Fox a year ago, Young and Fox have contrasting styles that can co-exist.
5] Atlanta Hawks select Michael Porter Jr. from Missouri
-Dropping two slots while trying to tank is among the worst things that can happen to a team. Luckily for the Hawks, this is a top loaded draft and they snatch up Porter, who was the consensus top player coming into college. An injury cost us the chance to see what Porter could do for the Tigers, though, the talent is definitely there.
6] Phoenix Suns select Colin Sexton out of Alabama
-Phoenix has the hopes of bringing Bagley back to the Valley of the Sun, but the Tankathon lottery isn't kind to them as they drop a slot to the sixth overall selection. With a budding superstar in Devin Booker, Phoenix needs to surround him with talent, and do it soon. Sexton provides Booker with a backcourt mate that isn't invisible on defense who can handle the ball well. Could build a dynamic duo for years to come.



7] Cleveland Cavaliers (via Brooklyn Nets) select Mohamed Bamba out of Texas
Will LeBron stay? Will he leave? No one knows the answer, and the Cavs hope to strike gold with the shot blocking prowess of Bamba. Averaging 4.4 blocks with the Longhorns, Bamba has the tools to be a piece to retool a roster around. If James decides to remain in his hometown, Bamba would provide a defensive anchor, taking pressure off.
8] Chicago Bulls select Kevin Knox out of Kentucky
-On a team full of stud freshman, Knox is arguably the leader of the pack. With a perfect tweener body, Knox's athleticism is combined with his sweet stroke, making him the perfect three to compliment Lauri Markkanen, Zach LaVine and Kris Dunn.
9] Philadelphia 76ers (vis Los Angeles Lakers) select Miles Bridges out of Michigan State
-Bridges could have been a lottery pick last year, decided to stay and help Tom Izzo/the Spartans make some noise while improving his game. Averaging 17.7 points a night while playing solid defense and a versatile offensive game makes Bridges a good fit next to Ben Simmons and Joel Embiid.
10] Utah Jazz select Mikal Bridges out of Villanova
-Utah may have had one of the steals of the 2017 draft, and hope to bring an encore to Salt Lake City by taking the oldest player selected to this point, in Bridges. An all around swing man, Bridges is a solid defender to compliment the play of Donovan Mitchell.
11] Charlotte Hornets select Jaren Jackson Jr. out of Michigan State
-The second Spartan taken gives the Hornets a long, and athletic big man that has the tools to be an elite defender. Jackson is shooting solid percentages (51.9% from the field and 44.6% from the field, 80.8% from the line), however, isn't doing so very often.
12] New York Knicks select Troy Brown out of Oregon
-An outstanding scorer for the Ducks, Brown would compliment Frank Ntilikina well in the back court, while giving the Unicorn a ton more space to operate.
13] Detroit Pistons select Robert Williams out of Texas A&M
-While the rest of the NBA is going away from two traditional big men, Stan van Gundy and the Pistons decide that they are going to go into pounding the post.
14] Los Angeles Clippers select Wendell Carter out of Duke
-Last time the Clippers had a big man from Duke, he did pretty well, which they hope to repeat with the addition of Carter. With DeAndre Jordan an impending free agent, that is speculated to be on his way out, Carter provides an athletic partner for Blake Griffin up front and would be a great fit for alley oops from Milos Teodosic and, hopefully, Lou Williams.
15] Denver Nuggets select Trevon Duval out of Duke
-Back to back Blue Devils selected here as the Nuggets hope Duval solves their point guard issues with his pesky play.
16] Philadelphia 76ers select Hamidou Diallo out of Kentucky
-An athletic freak, Diallo crashes the glass like no other, and knows how to use his lankiness to disrupt opponents on defense. Still, a major work in progress, needs to work on his jumper and defensive awareness.
17] Milwaukee Bucks select Mitchell Robinson
-Robinson was supposed to be playing for the Hilltoppers this year. Instead, he decided to forego his collegiete career and use the year to train for the NBA Draft. A legit seven footer, the Bucks can use a top shot blocker that boxes out.
18] New Orleans Pelicans select Shake Milton out of Southern Methodist
-With the twin towers down low, and Jrue Holiday seemingly having the floor general spot on lock down, the Pelicans go for a solid shooter who is fine playing off the ball.
19] Portland Trail Blazers select Keita Bates-Diop out of Ohio State
– Bates-Diop has been a bright spot for a Buckeyes team, showing he has an ability to get the ball into the bucket while also giving full effort on defense. What's holding the swing man back is his age, as he is already 22, a tidbit I see Neil Olshey looking past to secure a solid third option for Damian Lillard & CJ McCollum.
20] Indiana Pacers select Shai Gilgeous-Alexander out of Kentucky
-Another Calipari project goes in the first round, as the Pacers hope to mold Gilgeous-Alexander into a point-forward.
21] Washington Wizards select Jontay Porter out of Missouri
-Washington needs a presence in the post to deter opponents from penetrating, and Porter provides just that. Just under seven feet tall, Porter is swatting two shots a night for the Tigers and is a defensive plus. Does need to work on scoring, but that can come.
22] Phoenix Suns (via Miami) select Rawle Alkins out of Arizona
-Keeping Alkins in state, the Suns add in a guard that loves to crash the offensive glass and doesn't give up on defense. Alkins does struggle with turnovers, giving it up 2.6 times a night in Tucson, though, won't be required to handle the rock much for the Suns.
23] Minnesota Timberwolves (via Oklahoma City) select Anfernee Simmons out of IMG Academy
– A top-10 recruit out of the coveted IMG Academy may just skip college play and make the jump through the same loop hole as Thon Maker, and the Wolves would be hard pressed to pass up on him in with this pick. A solid scorer that just needs to put on some weight.
24] Cleveland Cavaliers select Lonnie Walker out of Miami
-Cleveland adds in a solid scoring guard that knows how to use his length on defense. Walker has all the tools to stick around for a while.
25] San Antonio Spurs select Dzanan Musa out of KK Cedevita (Croatia)
-Standing at 6'9, Muza is an intelligent swing man that plays to his limits, and excels at it. His jumper is sweet and his IQ on defense allows him to get by. Ginobili would be a wonderful mentor for this young man.
26] Atlanta Hawks (via Minnesota) select De'Antony Melton out of USC
-Melton has been declared ineligible by the USC Trojans to finish his college career, and will make a solid jump to the pros. Atlanta looks to him as a fit between Porter & Dennis Schroeder as an off guard, hoping his jumper comes to him.
27] Brooklyn Nets (via Toronto) select Brandon McCoy out of Nevada
– Losing out on its pick again, the Nets go with a high potential big man that loves to score and crash the glass. McCoy is hitting 59.1% of his field goal attempts and isn't far off from 70% at the line.
28] Boston Celtics select Daniel Gafford out of Arkansas
-With Horford being the aging member of the Celtics, who have youth at every other position, Danny Ainge looks to bring in a promising center that loves to block and box out.
29] Atlanta Hawks (via Houston) select Rodions Kurucks out of Barcelona (Spain)
-Kurucs has a sweet jumper and knows how to finish around the basket through contact. Atlanta could utilize his strengths to help spread the floor as they go through a rebuild.
30] Golden State Warriors select Grayson Allen out of Duke
-What do you get a team that has everything, and is, arguably, the most disliked? The most disliked player in the NCAA, as Allen would also fit in with his shooting and playing within a team abilities.
Next 5: Chimezie Metu (USC), Legerald Vick (Kansas), PJ Washington (Kentucky), Gary Trent Jr. (Duke) & Landry Shamet (Wichita State)