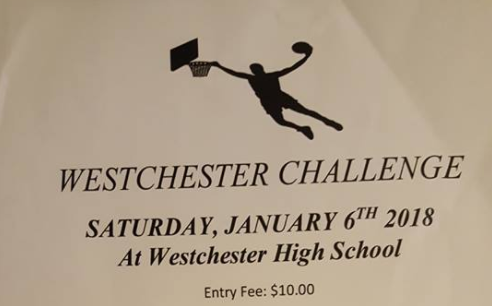 Trevor Ariza Tip-Off Classic was hosted beautifully, as always, by Westchester High School, but the Comets quite aren't done, as the Westchester Challenge tips off in just a few hours. Featuring twelve teams, the Challenge culminates with a marquee match-up, that is sure to have the West Gym packed. Let's take a quick look at the full slate, which could be viewed live at Baller.TV


The North Saxons return to Westchester High School, after taking part of the Ariza Classic, and look to notch their first victory, losing all three prior events. Coming in at 2-9, momentum building is needed before conference play starts, as it won't get easier.
While, the Knights will make the trek from the desert, wanting to start 2018 off with a victory. At 8-6, the Bulldogs were a bounce away from being 10-4, with two three point defeats, as they look to go back into Golden League play with momentum and capitalize on a 4-0 start.
Prediction: Highland uses a strong first half to cruise to a 54-43 victory.

Fresh off a 3-0 run at the Under Armour Holiday Classic, the Drillers hope to keep it going against an out of state foe to climb the California Central Section Rankings, where they are currently sixth. Forcing turnovers will be key to a side netting just over 15 steals a night, as they look to keep it going after Junior Tahj Wright announced his transfer.
Despite being from Nevada, the Falcons are acclimated to competition from California, as six of their 14 games have been against teams from the Golden State, splitting them up. Led by Marvin Coleman II's 18.1 points and 9 rebounds a game, the Falcons look to get over the .500 mark.
Prediction: After turning it over often early, the Falcons settle down and take a 72-63 decision into league play.

Hesperia Scorpions make the trek to Westchester for the second time, also having taken part in the Ariza Tip-Off, where they split four games. This time around, the Coach Skidmore will have the services of Jaden Shackelford, the Oak Hills transfer who scored 24-points in his Scorpion debut. A target of Long Beach State, among others, the Junior is a lanky sharpshooter that is sure to cause problems for the opposition.
Stuck at .500, the Gladiators will be focused on walking out of the gym with a victory, with league play looming around the corner. With Jarrel King (Sr) and Jaren Johnson (So) providing the scoring punch, Gahr will need to clean up the glass and force turnovers to take the victory.
Prediction: Shackleford hurts the Gladiators from the arc, as the Scorpions leave with a 61-47 victory.

Harvey Kitani is doing work with the Huskies, which comes as no surprise after his success at Fairfax, who are coming into the contest with a 6-4 mark. What is absolutely stunning is the four losses all came within three points, two of which were in overtime and the other two by a single tally. Alex Garcia and Colin Au are the lone seniors on a side that is akin to go on a tear.
Like their foe, the Sea Hawks have had three losses by single digits and are coming off a one-point defeat against St. Bernard during the Take Flight Challenge just a night ago. Led by Zekiah LoVett's 17.1 points (Marcus LoVett's younger brother) and Quinn Collins' 15.9, the Hawks will look to out score the Huskies.
Prediction: Another heartbreaking loss for the Huskies, as the Sea Hawks catch fire late en route to a comeback 64-59 victory.

A tough schedule doesn't get any easier, as the Comets look to build on aspirations of hoisting a state title behind the play of senior's Maurice Tutt and Kaelen Allen. Expect Coach Ed Azzam to have his side focused in and not overlooking current opposition.
Villa Park is coming off a dominating victory, as the Spartans look to climb over .500. Five of the Spartans six defeats have come within single digits, with the lone other blemish being by 10. Julien Franklin is coming off a visit to Oregon State and will look to keep his scoring going.
Prediction: Westchester is a tough out, let alone at home. They take this one, going away, 68-50.
8:00 Tip-Off: Bishop Montgomery (Torrance) vs Oak Park

Coming off a three-point win against Sierra Canyon, while missing three starters, the Knights are showing that they are the best in the state. Prior to the victory, the Knights were ranked 16th in the Xcellent 25 Poll, 9th in the Nation, 2nd in the State, 1st in Division 1 (according to Maxpreps). and are sure to continue their incline. Just thinking of the Knights potential when Gianni Hunt returns is….scary. A well oiled machine, the Knights defensive game plan is well drawn out, and executed even better.
Rankings though are exactly that, just rankings. A fact the Eagles will be eager to show as they prep for league play. Led by Utah commmit-Riley Battin and his 25 points/14 rebounds, Oak Park has been a tough out, with three of their five defeats coming by a single tally, and another by two. Battin has help with the Slajchert brothers (Wes going to Dartmouth and Clark being a sophomore) while Zeke Richards helps form a set of towers.
Prediction: This will be a good one, an absolute barn burner as two excellent coaches will be playing chess on the sidelines. I like this as a see-saw battle which sees Bishop escape with a 74-69 win.