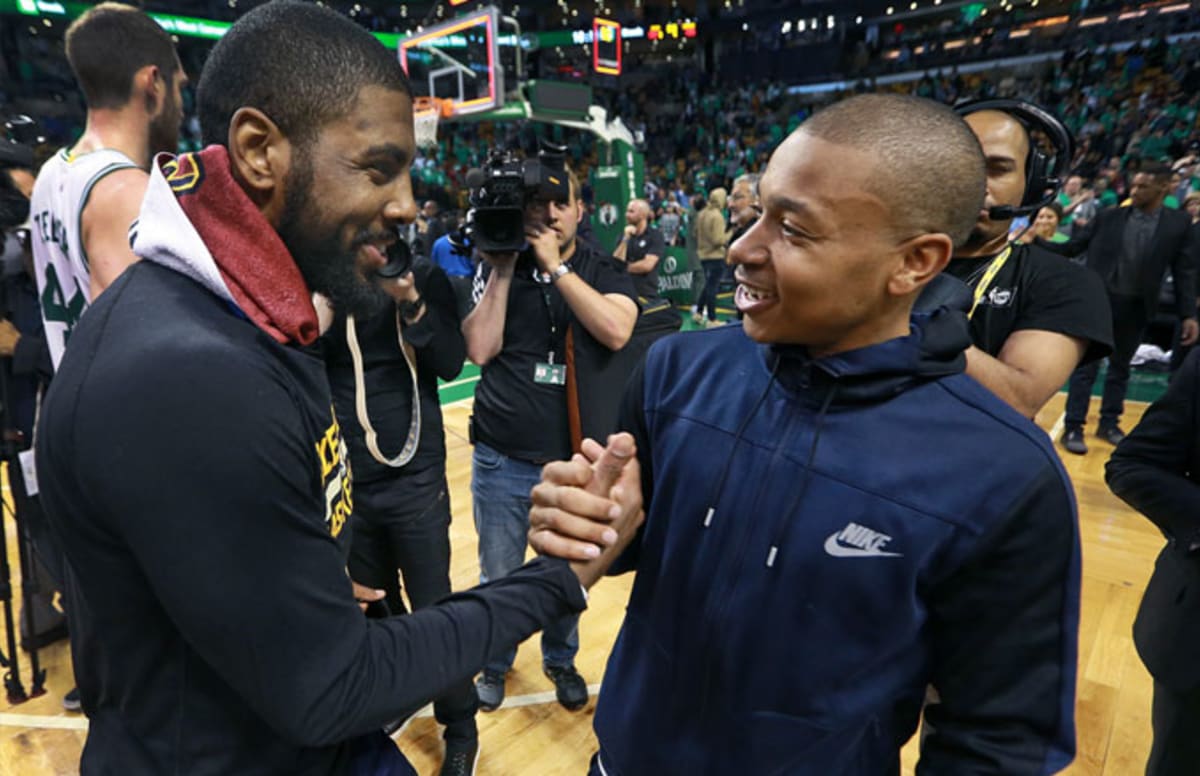 Benjamin Franklin once said that there were only two things that were certain in life, being death and taxes. Well, Mr. Franklin, it's time to add the Eastern Conference being relatively weak to the list, and it just got worse as the East lost Paul George and Carmelo Anthony to Western Conference teams, while snagging Gordon Hayward across the lines.

Making things entertaining, the defending Eastern Conference Champions and the runner-ups decided to hook up for a trade, swapping scoring point guards in an unprecedented deal. A brewing rivalry took the next step without a single game being played on the court.
Here's an attempt and predicting the final standings in the East.
1] Boston Celtics
Brad Stevens needs to change his entire game plan, as the Celtics are going to go from a gritty, defensive side to one that will try to push the pace, in an attempt to match with the modern day NBA. To go with that, there is little doubt that Kyrie Irving will do what he can to put Boston on top of Cleveland.
2] Cleveland Cavaliers
As long as the Cavs have LeBron, they'll finish among the top of the East. Isaiah projected to miss a decent amount of time could hurt the Cavs when it comes to chemistry, Derrick Rose and Dwyane Wade both had solid preseasons, and with it rolling over, the Cavs will have yet another good run.
3] Milwakuee Bucks
Khris Middleton should be good to go, and Giannis Antetokounmpo's development is sure to continue as the Bucks look to climb into the upper ecehelon of the Eastern Conference while introducing the league's first ever "3-and-D" center in Thon Maker. One of the few teams not to make a major change, the cohesion should be there from the get go.
4] Washington Wizards
No one seems to have a dislike for super teams in the NBA, while keeping their word, like John Wall does. One of the league's best true point guards, Wall still has room for growth, alongside Bradley Beal and Otto Porter, was the Wizards look to make some noise in the playoffs.
5] Toronto Raptors
Toronto lost a lot of bench depth, as P.J. Tucker, Patrick Patterson, Corey Joseph and DeMarre Carroll all depart, they were able to retain the services of Kyle Lowry and Serge Ibaka. C.J. Miles will be a nice addition, as Dwane Casey hopes that the youth on the bench developes quickly. Keeping Norman Powell at a bargain rate was also huge.
6] Detroit Pistons
With the return of Reggie Jackson, and Andre Drummond wanting to show he can play in the modern paced NBA, Stan van Gundy has all the tools needed to motivate the Pistons to pull some early season upsets en route to a sixth place finish. Winning a game after that, however, will be near impossible.
7] Miami Heat
Banking on Goran Dragic and Dion Waiters typically isn't a recipe one would consider for success. Miami will be hoping to make pull an upset, and what better opponent to do so than against a Cavalier side including LeBron James & Dwyane Wade. Hassan Whiteside's development will be heavily banked upon.
8] Philadelphia 76ers
Trusting the process gets the 76ers into the playoffs for the first time since the 2011-12 lock-out season. Ben Simmons is finally healthy, thought to be the front runner for the Rookie of the Year award with Joel Embiid being the absolute X-Factor.
9] Charlotte Hornets
Dwight Howard isn't going to give the Hornets quite what they expect, and despite Kemba Walker playing out of his mind, it won't be enough to sneak into the postseason. The loss of Nicolas Batum stings more than expected.
10] Brooklyn Nets
Not being able to sign any free agents, the Nets utilized their cap space by acquiring questionable contracts to add talent to the depleted roster. D'Angelo Russell came with Timofey Mozgov, while the squad essentially will welcome back Jeremy Lin to the unit. Keith Atkinson has done a wonderful job in Brooklyn, and the volue of their pick may not be a shigh as projected.
11] New York Knicks
Finally ridding themselves of the Melodrama, the Knicks will look towards the future and development of rookie Frank Ntilikina and Kristaps Porzinigs, the new franchise player.Going to be a while before the Mecca of basketball has reasons to cheer.
12] Orlando Magic
Trying to figure out the direction Orlando is trying to go will make your head hurt. A youth movement seems the goal, along with continual development for Aaron Gordon and Elfrid Payton, but then, they sign veterans in Arron Afflalo and Marreese Speights. Orlando could sneak into the playoffs, or they can implode. I expect the latter.
13] Indiana Pacers
Giving away a player with the caliber of Paul George just isn't the recipe for success. Indiana, though, seems like they want to go towards the future, and have a nice collection of young talent with T.J. Leaf, Ike Anigbogu and Damontos Sabonis joining Myles Turner in the front court.
14] Atlanta Hawks
Piling up assets to help facilitate trades or just take on bad contracts, its no surprise Atlanta is aiming for a high lottery pick to get back into the East's Elite. Dennis Schroder, Taurean Prince and John Collins will have plenty of growing pains.
15] Chicago Bulls
When you lose a player the caliber of Jimmy Butler, your results are going to drop. Chicago was no different, and they have a solid collection of youth from rookie Lauri Markkanen to Zach LaVine, Kris Dunn, Denzel Valentine and Bobby Portis.