With less then a month remaining until Armenia visits Montenegro
in, what is essentially, a must-win situation to keep their slim
hopes at qualifying for Russia 2018, Artur Petrosyan, manager,
has revealed his 16 legionnaire (those with a club team outside
of the country). Pretty much an expected list, with two new
invitees and the continued exile of Yura Movsisyan, to the
chagrin of the fans around the globe.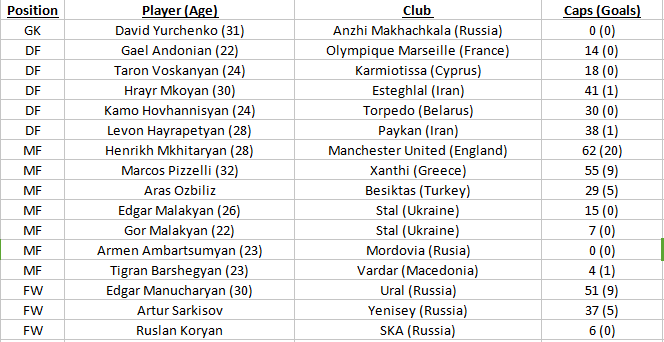 Prior to the match versus Montenegro, Armenia gets a tune-up
against Saints Kitts & Nevis from CONCACAF, and generally
one of the weaker teams throughout all FIFA associations.
Notable players include Atiba Harris (FC Dallas) and Harry
Panayiotu (Barrow A.F.C.). It'll be the first meeting between
the two sides, and St. Kitts is coming off a solid 2-1 home
victory over Barbados. The match will be on June 4th.
Armenia has had solid success against limited games versus
CONCACAF opponents with a record of 3W-1L-1D. They have scored
15 times during those five matches and only conceded four.
The friendly will give Petrosyan a chance to see how Yurchenko
fits in between the poles and decide on a XI that has the best
chances of coming out with three crucial points in Podgorica.
Armenia currently sits in fifth place in Group E, with six
points, with Montenegro sitting in second and seven. Previously,
Armenia held Montenegro off 3-2 thanks to a stoppage time
screamer by Gevorg Ghazaryan, missing the match due to an injury
picked up seconds into the match versus Kazakhstan, in Yerevan
back in November. That meet was the first between the two sides.
With a trip to Romania before hosting Denmark and Poland,
Mkhitaryan and company know how important netting all three here
would be. June 10th could be a big day.