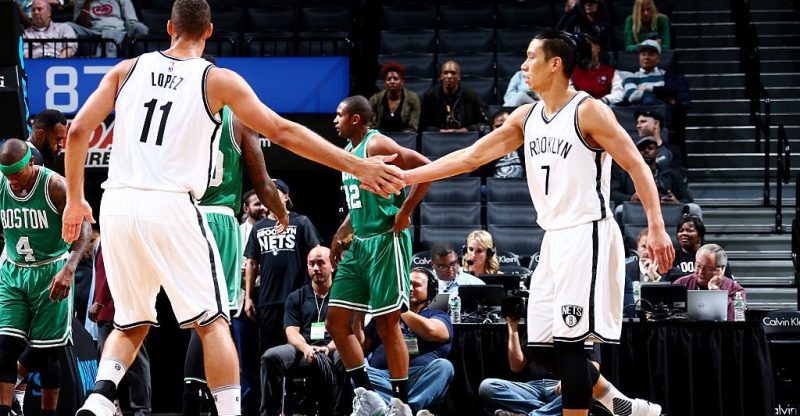 In the history of sports, its hard to find a
team that has had an outlook bleaker than the current Brooklyn
Nets. An attempt to take a short-cut and win a NBA championship
cost the team a top four pick in the loaded 2017 NBA Draft, they
won't have their own 2018 First Round selection as well. The
roster also lacks a guy to point out and say, "he's a
franchise kind of guy." Still, without their own first
rounder next year, the Nets will be looking toward improving as
much as possible and give Boston an inferior selection.
As of right now, the Nets will have two
selections in the mid-20s (projected to be #24 and #26 as of now)
along with the 56th overall selection. Depending on how the
Pacers season finishes, they could add on an additional second,
around the 44th slot, and for the sake of this posting, we will
assume they will get the Pacers pick conveyed.
The depth chart for next season looks like:
PG: Jeremy Lin | Spencer Dinwiddie
(Non-Guaranteed)
SG: Caris LeVert | Isaiah Whitehead
SF: Sean Kilpatrick (Non-Guaranteed) | K.J. McDaniels (Team
Option) | Joe Harris (Non-Guaranteed)
PF: Rondae Hollis-Jefferson | Quincy Acy (Non-Guaranteed) |
Andrew Nicholson
CE: Brook Lopez | Trevor Booker | Justin Hamilton
Free Agents: Randy Foye, Archie Goodwin
Jeremy Lin may be the only
"untouchable" player due to his popularity with the
fans and his ties with Coach Kenny Atkinson, while LeVert may
have more value to the Nets than he would to any other team, same
might be said for Hollis-Jefferson & Whitehead as well.
Depending on the trade market, Lopez could be a trade target,
while the Nets would also love to get rid of Nicholson, if not
swap him for another mediocre player at a different position. A
cornucopia of cap space could also help Brookyln vastly improve
for the 2017-18 campaign.
If I were Sean Marks, my summer would go
something like:
Team Options/Guarantees:

Pick-up McDaniels option along with Acy, Harris
and give Goodwin and Dinwiddie training camp invites with a
chance to make the roster. Let Foye and Kilpatrick walk as well.
Draft Night
First move would be to see if Brook Lopez can
be moved to acquire a pick, or some other assets to go forward
with. Charlotte and Indiana could be two potential trade partners
with the Lakers being a distant possibility. Would Bird be
willing to swap Al Jefferson and the 16th selection to move down
to the 26th spot to add Brook Lopez to Paul George and Myles
Turner. Doubtfully, I'd contact Charlotte next to see if they
would do the 12th selection along with Miles Plumlee and Marco
Belinelli for Lopez. Assuming Charlotte declines the deal, you
see what Lakers can offer, which will most likely include Timofey
Mozgov or Luol Deng and the 27th selection along with Jordan
Clarkson. An offer that is a hard-pass.
Now, get creative with the 26th slot to add a
few more picks while also moving up. Contact the Thunder and look
to move up to the 21st selection with Hollis-Jefferson while also
adding the 56th selection to move up to the 50th spot and acquire
a future second.
At this point, you are sitting pretty solid
with the 21st, 24th, 44th and 50th slots. I'd see if Utah would
be willing to give the 35th and 41st spot with 25 to move to 21.
Assuming not, I'd be praying Lauri Markkanen drops to me at 21,
which is pretty unlikey. So, I go with:
|
|
|
#21: T.J. Leaf from UCLA
#24: Dwayne Bacon from Florida State
#44: Caleb Swannigan from Purdue
50th: Frank Mason from Kansas
Post-Draft Depth Chart:
PG: Jeremy Lin | Spencer Dinwiddie* | Frank
Mason
SG: Caris LeVert | Isaiah Whitehead | Archie Goodwin*
SF: Dwayne Bacon | K.J. McDaniels | Joe Harris
PF: T.J. Leaf | Caleb Swannigan | Andrew Nicholson
CE: Brook Lopez | Trevor Booker | Justin Hamilton
*Denotes Training-Camp
Free Agency/Rest of Summer:
With eleven men under contract, two second
round rights and two training camp invitees, Brooklyn still has a
plethora of cap space to throw around, and will look to open up
roster spots and clear up a bit more cap. Justin Hamilton is
going to be a $3M expiring deal, that could be useful for a team
that needs a stretch big. Sending him anywhere for a Top-55
protected second would be ideal. I'd contact Chicago and look to
reuinte the Lopez Twins' by sending out Booker and Nicholson,
which would further clear about $3M more to be used in free
agency.
Now, the usual targets will most likely be
matched, but throw the max to Otto Porter. After, toss in a nice
deal to Kentavious Caldwell-Pope, who will also be matched by
Detroit. With those two restricted guys matched, I'd try to pry
JJ Reddick away with a healthy deal (say a 3 year/$50M deal)
since the Clppers could be in a big mess. With that also failing,
as JJ wants to win (he has made the playoffs all 12 seasons of
his professional career thus far), I toss in a healthy deal to
Shabazz Muhammed, just enough to pry him away from Minnesota and
bring in Brandon Bass to provide some leadership and toughness
off the bench. Invite the following to trainng camp: Chris
Boucher, Bryce Alford, Omer Yurtseven, Alan Anderson, Bobby Brown
Final Roster:
PG: Jeremy Lin | Frank Mason
SG: Caris LeVert | Shabazz Muhammed | Isaiah Whitehead
SF: Dwayne Bacon | Joe Harris | K.J. McDaniels
PF: T.J. Leaf | Caleb Swannigan | Brandon Bass
CE: Brook Lopez | Robin Lopez
Training Camp: Spencer Dinwiddie, Archie Goodwin, Chris
Boucher, Bryce Alford, Omer Yurtseven, Alan Anderson, Bobby Brown