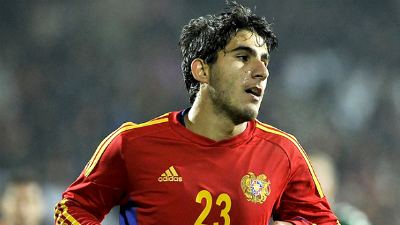 Artur Petrosyan continued his perfect start, as
Armenia ran out 2-nil victors over Kazakhstan in Group E play,
keeping a glimmer of hope alive of punching a ticket to Russia.
Petrosyan, taking over just last October, is now 2-0-0 as the
manager, both competitive victories, as a 3-2 result against
Montengro was the debut.
Within the first minute, Gevorg Ghazaryan
(whose last two international goals were last second winners) was
taken down by Kazakhstan keeper, David Loria, which should have
been a blatant penalty kick. Aleksandar Stavrev, the lead
official, didn't agree, which ended up being two major blows for
the home side, as Ghazaryan was unable to continue, and Petrosyan
was forced to burn one of his three substiutions early on in the
match, bringing in 23-year old Tigran Barseghyan to replace the
seasoned veteran.
Remainder of the opening 45 was a chippy
affair, resulting in three yellow cards, Artur Sarkisov getting
one for the home side hwile Abzal Beysebekov and Sergei Maliy
went into the book for the visitors. A couple of good runs and
ambitious efforts by Henrikh Mkhitaryan, combed with solid
build-up gave the Armenian faithful some close moments, though
they went into the break without a single tally.
Physical play continued on into the second
half, as Varazdat Haroyan picked up a yellow, which will keep him
out of Armenia's next match, just three minutes in, while Ashkat
Tagybergen received one in the 54th slot. Kazakhstan nearly
scored off a corner that flew across the front of the net,
needing the slightest of touches to beat Beglaryan.
The game opened up for the hosts in the 64th
mintue as Maliy picked up his second yellow, taking Mkhitaryan
down on a counter, giving Armenia a man advantage. Petrosyan
immediately looked to his bench, bringing in seasoned Edgar
Manucharyan for Marcos Pizzelli in the 65th minute, followed by
Aras Ozbiliz for Sarkisov just five minutes later.
Mkhitaryan found himself on top of the box,
dribbling through before notching his 20th international goal,
the nations all-tme leader, in the 73rd minute, followed by a wonderful volley by
Ozbiliz just two minutes later. That was all she wrote, as
Armenia had a couple more half-chances, and Kazakhstan nearly
pulled one back late.
A close eye will be kept on by the Armenians to
the Romania-Denmark & Poland-Montengro affair, as they hope
to keep any chance alive, no matter how slight. Updated table is
below:

---
PLAYER RATINGS:
Arsen Beglaryan (GK),
6/10: Beglaryan wasn't tested much, and the
communication with the backline leaves a lot to be desired. He
timed a few balls well, though the miss on the in-swinging corner
and the late parry were headscratching. A big step down from
Roman Berezovsky.
Gael Andonian (CB),
7.5/10: As mentioned, the communication is lacking,
namely with Beglaryan, but Andonian was solid on the backline,
returning from suspension. The French-born center back played the
passing lanes well, while not making any silly mistakes.
Committed only one foul while getting the whistle twice.
Varazdat Haroyan (CB),
7/10: Similiar to Andonian, Haroyan did well to win and
hold possession while making the right passes to move the ball up
the field and get some counter opportunities. Did pick up a
yellow, which will hold him out of the June match in Montenegro,
however.
Taron Voskanyan (RB),
7.5/10: Voskanyan moved up to support the attack while
tracking back to defend when the attack was botched. Didn't give
it away nor get beaten. Was ambitions on the front 1/3 and got
called for an offside.
Levon Hayrapetyan (LB),
7/10: Like Taron, Levon timed his overlapping runs
extremelly well while ensuring the visitors didn't get the space
to get a counter finish. Without much pressure, grading the
defenders wasn't easy.
Gor Malakyan (CDM), 8/10:
Malakyan did very well to hold possession and control
the midfield for the hosts. He made solid passes to get the
offense started while going ahead himself at the right moments.
Recorded a shot while drawing four fouls. Going forward, Malakyan
needs to put on some muslce.
Marcos Pizzelli (CM),
8.5/10: Subbed off in the 65th minute, the Brazilian
born Pizzelli had a technical showing, picking out his teammates
and his own shots well. Took 3 shots, including a free kick that
was placed well and read by Loria just before the half.
Henrikh Mkhitaryan (CM),
9.5/10 MOTM: The goal scorer had a few opportunities to
give Armenia the lead earlier on in the match but was clinical
all over. Mkhitaryan drew three fouls, put six shots on the
stat-sheet, including the all important winner.
Gevorg Ghazaryan (LW),
Inc: Played less than a minute, but had a great run
before injury forced him off.
Kamo Hovhannisyan (RW),
7.5/10: Hovhannisyan had some good runs, picked his
spots well. Had a few easy giveaways and made a few questionable
passes, though, his assist to Ozbiliz was placed just right. Not
sold on him being the answer going forward.
Artur Sarkisov (CF),
5/10: Sarkisov was essentially invisible on the pitch.
Pace is his biggest asset, and he failed to utilize it well. Had
one run where he should have laid it off, ended up keeping it and
just giving it away.
Tigran Barseghyan (LW,
Sub), 7/10: Barseghyan laid the ball off to Mkhitaryan
for the initial goal, and played well considering he was forced
into the game earlier than expected. Decision making was
questionable as he gave possession away much more often than
desired.
Edgar Manucharyan (CM,
Sub), 8/10: Manucharyan came in and made it clear he is
still worthy of call ups to the national team. Handled the ball
quite well, made solid passes and forward runs. Could be an
option in the starting XI going forward.
Aras Ozbiliz (CM, Sub),
9/10: Fatigue didn't seem to be an issue for the
ever-so-talented midfielder. A clinical volley finish, Ozbiliz
showed his technical ability is still top-notch, leaving health
to be his only concern.
Artur Petrosyan
(Manager), 10/10: Petrosyan was forced to burn an early
substitution, and made two exceptional follow ups. Sarkisov was
bland and could be left out with re-evulation, but not many
complaints can be made after a clean sheet and victory to
continue his story as the nations manager. Two games in, two
wins, five goals scored, two allowed. Hopefully the coaching
carousel ends for the time being in Armenia.