Brackets busted? Don't worry, so have mine and every single persons on this planet. Villanova losing was a shocker. Duke out early, again? Not many had predicted that one. In fact, the Duke game cost one hopeful fan a chance at a perfect bracket, his streak of 39 games before his first loss is the longest verified online run, topping a 36 game mark in 2014, according to MarketWatch.com.
       March, however, is a lot more than just brackets. It's a chance to see how some of these young men react to pressure and big games. Do they step up and increase their stock? Or maybe they have a bad streak and dwindle down until the draft combine gets underway. The top prospect, according to numerous scouts (top 3 consensusly), didn't even make the tournament, and one has to wonder if the amount of games will hinder whoever wins the lottery.
    Like with my first two mocks over on Sportsblog, I've once again used Tankathon to determine the order, running the lottery simulation 16 times (for the Sweet 16 of course). Plenty of games remain from now until the end of the season, so odds may change, which is why I prefer using a simulation program as opposed to simply selecting the order based off of reverse order. Any picks that are handed off are also noted.
Whether you agree, or disagree, let me know in the comments.
---
1] Phoenix Suns select Lonzo Ball out of UCLA
       The Valley of the Sun strikes gold, as the Suns jump up from the third projected to secure the services of Lonzo Ball to be the teams floor general of the future. Much to the chigrin of LaVar, Lonzo's attention seeking father, Lonzo has stated he will play for whoever drafts him, and he would be a perfect fit for the Suns youth, to go alongside Devin Booker in the backcourt, as the Suns will look to further develop Marquesse Chriss and Dragan Bender in the front court. His uncanny ability to see a play two steps ahead of time, defensive intensity and ridicilously high IQ will make him a fan favorite, if he isn't already. Afterall, Phoenix and Southern Arizona residents already had two opportunities to see Lonzo play live, and could have two more if the Bruins are able to sneak past Kentucky and notch another win against North Carolina/Butler.The biggest concern with Ball was his lack-of-a-reliable jumper, which he has disproven during his freshman campaign, shooting well over 42% from range on over five attempts a night. With a good amount coming from NBA range as well. It may be ugly, but it works.
2] Philadelphia 76ers (via Sacramento Kings) select Markelle Fultz out of Washington
Fultz came in as the top ranked prospect, and many expected him to get the Huskies to places they hadn't been in years. Unfortunately, the team just didn't gel and ended up with just a meager nine wins, not even sniffing any sort of post-season discussion. How much of the blame can you put on Fultz is up to you, however, his talent level is clearly there for the NBA. He has proven to have a reliable jumper and the ability to set teammates up when needed. Defensively, Fultz is far from a slouch and has among the best compilation of chase down blocks you can find from any player within a 30 or so game span. With Ben Simmons, Joel Embiid, Jahlil Okafor, Dario Saric and numerous other picks, Philadelphia is not lacking young talent in the slightest.
3] Los Angeles Lakers select Jayson Tatum from Duke
Just missing out on a local talent, the Lakers have to settle for the third option and go with a Coach K talent in Tatum, who seems to do everything well, good even, but is far from being elite at any single aspect of the game. Defensively, he has the tools to be great, both physically and mentally, while he has shown glimpes of possibly turning into an offensive threat that can take games over and score in spurts. Tatum also stepped up his game in the post-season, despite Duke's upset loss to the Gamecocks of South Carolina averaging 22 during the ACC tournament. Luke Walton and Rob Pelinka will certainly have decisions to make, not only if Tatum is the guy, but which of their prized youth is available in a trade, and who isn't.
4] Boston Celtics (via Brookyln Nets) select Josh Jackson from Kansas 
If you have any questions on Jackson's ability to, potentially, one day be a lock down defender in the NBA, I advise you to watch some Jayhawk games. One-on-one defense, rotating on defense, hedging players, guiding them to where he has help, in transition. There is very little on the defensive end of the floor where Jackson does not do good at. On the court, the biggest concern with the youngster is his jump shot, which has been wildly inconsistent. Though, his percentage from range has been creeping up and stands at a respectable 38% at the moment. His free throw shooting isn't far off from being DeAndre Jordan bad, at 57% for his freshman campaign, meaning you would be better off fouling him than giving him transition points. However, his biggest concern may be his actions off the hardwood, as he allegedly threatened to beat a woman after destroying her vehicle. He is young, and made a mistake, and has since, said and done all the right things. Brad Stevens would also make an amazing coach for the utility guy.
5] Orlando Magic select Dennis Smith Jr. from North Carolina State
Orlando is in a pecuilar situation, with a bunch of youth that haven't seem to improved and an ownership group/fan base that is growing weary of Rob Hennigan's attempts to rebuild the franchise after the departure of Dwight Howard. Elfrid Payton has shown signs of being a capable point guard, but then, has also shown plenty of struggle without improving his jump shot much, something that is basically a neccessity for the floor generals in this day and age. Orlando decides to move on and takes the most athletic guard in the draft, maybe the most athletic guard in college since Russell Westbrook was posterizing people (see the dunk that made Russ heard around the world here). Smith has plenty of work to do on his own jumper, but the amount of potential might be way too hard to pass up.
6] Sacramento Kings (via Philadelphia 76ers) select De'Aron Fox from Kentucky
Past the Cousins-era, Sacramento has youth in nearly every position but the point guard slot. Fox would be a great fit to grow alongside Buddy Heild at the guards, while Willie Cauley-Stein and Skal Labisiere are fellow Calipari products. Not to forget Papa G (Georgios Papagiannis), Malachai Richardson and Bogdan Bogdanovic who are expected to continually improve. Defense and attacking the rim are two things Fox does just as good as anyone, if not better. Speed-wise, I'd probably take Fox over any prospect by a good margin. With the development of a jump shot, no reason why Fox can't end up as one of the best players of the draft.
7] New York Knicks select Malik Monk from Kentucky
Back-to-back Wildcats go off the board, as the Knicks look for anything to get the franchise back into the playoff picture, while looking for a future partner for Kristaps Porzingis, whom many expects project to be an elite big man for years to come. Monk may not provide much of anything besides scoring prowess, but his potential on offense is truly elite. He had a 30-point half against a decent Florida side, while scoring 47 on Roy Williams' Tar Heels. If nothing else, Monk will electrify the crowd with spurts of seemingly being unstoppable.
8] Minnesota Timberwolves select Lauri Markkanen from Arizona
Like most lottery teams, Minnesota is oozing with young talent. Andrew Wiggins is still improving, Karl Anthony-Towns has a sky-high trajectory and Zach LaVine seems to have talent besides being able to jump out of a building. The biggest concern between the Wolves building block is none are considered to be reliable threats from range, enter the Finnish forward. Markkanen will come in and just be a boost for every player on the Minnesota team, as shooting is quite possibly the best translated skill from college to the pros. His defensive deficiencies will be masked by Towns, and the team set up, giving Lauri time to develop his game.
9] Sacramento Kings (via New Orleans Pelicans) select Jonathan Isaac from Florida State
Isaac, like Jackson, is the type of player who can make an impact without needing any sort of offensive plays ran for him. Athleticism helps him make the proper cuts and crash the glass for putbacks, and is a capable shooter to help keep the defense honest. Defensively, Isaac is just oozing with potential to be lock-down and could very well end up being the best defensive wing in the draft. With Fox taken earlier in the draft, Sacramento hopes to shore up the rotation.
10] Dallas Mavericks select Frank Ntilikina from France
Most haven't seen Ntilikina play, and who can blame them as the youngster plays in Europe. Scouts have been raving about his defensive intensity and play, while noting that he has a jump shot that is quite consistent and reliable. Yogi Ferrell has been a pleasant surprise for Mark Cuban's side, though, I'm not quite sure he is the fit needed for the future.
11] Charlotte Hornets select Miles Bridges from Michigan State
It's tough to see the Hornets and Michael Jordan passing up on a North Carolina alum, but the potential of Bridges may be just a bit to pass up. Athleticism is nothing that Bridges lacks (though, you may not be able to tell by simply looking at him) and he has shown to have a reliable jumper to keep his counterpart honest. Position-wise, Bridges is a tough fit since he lacks the defensive play to be looked at as a "3-and-D" guy , while not having the height to be a permanent four. Good thing the NBA seems to be inching away from positions for the Tom Izzo product.
12] Portland Trail Blazers select Robert Williams from Texas A&M
After overpaying some talent, Neil Olshey redeemed himself as a good GM when he was able to fleece Denver for Jusuf Nurkic (with a first), to put some dependable size for Damian Lillard & CJ McCollum at the guard slots. Williams can come in and make a perfect fit with Nurkic, while having the athleticism to run with Lillard & CJ when necessary. Defensively, the tools are there for Williams to be an elite shot blocker at the next level.
13] Chicago Bulls select Justin Jackson from North Carolina
Dwyane Wade's home coming may be cut short after an abysmal season, and the Bulls are a team searching for an identity. Jackson has finally developed a consistent jumper and seems to have confident in letting them rip, while maintaining solid defensive play.
14] Miami Heat select T.J. Leaf from UCLA
The first time I ever saw T.J. Leaf, I thought he was an altar boy or on the men's chorus, definitely didn't view him as an athlete. The first time I saw him on the hardwood, I realized how wrong I was and ate crow like never before. One of many spectacular freshman to step on the court at Pauley Pavilion, Leaf has shown to be able to do anything you can ask from him on the court. Shoot? Got it. Attack? Sure. Tough D? Yes. Physical? Of course. Dive for the loose ball? No question. Pass? Okay, let's stop, the answer is yes. Is he elite at anything? Maybe shooting, but even then, he would be a spectacular mate for Hassan Whiteside on Miami's front line.
15] Denver Nuggets select Terrence Ferguson from Australia
The biggest hole in the Mile High City is the point guard slot, and taking one here would be quite a reach. Ferguson is just as big of a gamble here, as the swing man has athleticism that is quite on another level, while having the ability to knock down shot after shot. Not playing for Arizona may have hurt his stock, however.
16] Detroit Pistons select Ivan Rabb from California
Most players hurt their stock when they decide to return for one more season, and Rabb was no exception. Still, the big man is a fringe lottery pick but may be one of the safest picks available. His touch around the rim is soft, and he has shown to have a nose for the ball. His understanding of the game has also increased, as he seems more willing to let the game come to him during his sophomore campaign.
17] Milwakuee Bucks select Luke Kennard from Duke
Milwakuee is a team full of length and athleticism, from the Greek Freak to Khris Middleton and Thon Marker. Kennard immediately comes in and helps spread the floor (alongside Middleton) to allow Antetokounmpo to continue to attack the rim at will. If Kennard's man decides to help, well, they just gave up a wide open three pointer to an elite shooter.
18] Indiana Pacers select John Collins from Wake Forest
After seeing Collins statistics, I decided to look up the definition of efficiency, and, as suspected, I saw his picture. He scored over 19 points a night for the Demon Deacons while connecting on 62.2% of his field goal attempts. Just under ten boards a night and 75% from the free throw-line on six attempts isn't too shabby either.
19] Atlanta Hawks select Tyler Lydon from Syracuse
Lydon provides the Hawks with a reliable stretch four that gives effort on the defensive end. Turnovers are rare for the sophomore as well.
20] Oklahoma City Thunder select Zach Collins from Gonzaga
Collins is a legit 7′ footer that has had a good freshman campaign, doing everything Coach Few asks from him. Like John Collins, Zach hits over 60% from the field (65.2 to be exact) and scores 10.3 a night. My favorite part is his defensive intensity, as was seen when he had four swats against Northwestern to help guide the Bulldogs into the Sweet 16.
21] Portland Trail Blazers (via Memphis Grizzlies) select Caleb Swannigan from Purdue
This is the pick Portland snagged from Denver with Nurkic, and they turn it into a double-double machine. Swannigan has been spectacular for the Boilermakers, and his soft touch around the rim, willingness and reliable jumper should be a seamless transition into the pro level. With Williams, Nurkic and now Swannigan, Portland has a nice big man core to build with.
22] Toronto Raptors select Bam Adebayo from Kentucky
Bam is strong. Period. There are fewer players at the college level I would take when it comes to sheer strength over Adebayo, and his athleticism doesn't suffer as a result. Shot blocking and rebounding are two skills where the potential is literally through the roof. Outside of that, Bam doesn't seem to be someone you can throw the ball into in the post. Ever.
23] Orlando Magic (via Los Angeles Clippers) select Isaiah Hartenstein from Germany
Overloaded with youth, and roster spots being at a premium, the Magic take a flier on the German big man that, in most drafts, would be the best shooter available for his position. His willingness to get his hands dirty on D just adds on to the suspense.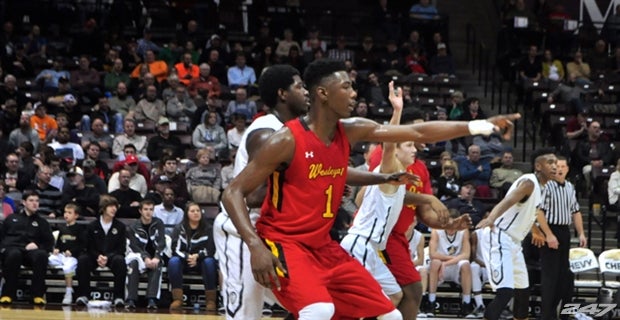 24] Brookyln Nets (via Washington Wizards) select Harry Giles from Duke
If you thought Greg Oden had bad luck with injuries, Giles may very well top him. As a sophomore in high school, he tore his ACL, MCL & Meniscus. His senior season lasted a whopping minute as he tore the ACL on his other knee. He didn't show very much with Coach K, but his upside may still be the very best in the draft. Plus, the last time a highly touted freshman got hurt while at Duke, ended up pretty well and Brooklyn has nothing to lose. Well, besides a possible (well, 95% unless something insane occurs) lottery pick in 2018.
25] Utah Jazz select Allonzo Trier from Arizona
Missing the first 1/2 or so of the season, Trier made an instant impact for Sean Miller's Wildcats in his return, a stunning win against the Bruins, and has since been an integral part of the Wildcats Sweet 16 run, and Pac-12 tournament championship. Trier doesn't shy away from the big shot, nor the defensive assignment challenge, and has shown to have solid athleticism. Could be a great fit for Quinn Snyder's system.
26] Brooklyn Nets (via Boston Celtics) select PJ Dozier from South Carolina 
Dozier played a big part on the Gamecocks upset over the Blue Devils of Duke, and has good size for a guard at 6-6. The Nets will give Dozier plenty of chance to prove himself as a NBA-worthy player.
27] Portland Trail Blazers (via Cleveland Cavaliers) select Rodions Kurucs from Latvia
Similar to Orlando's Hartenstein pick, the Blazers select a youngster they can stash in Europe for a year or two to develop, while retaining his rights and giving him an opportunity to show he belongs during the next couple of training camps. Kurucs has shown to be a reliable shooter at BC Barcelona and doesn't shy away from anyone.
28] Los Angeles Lakers (via Houston Rockets) select Monte Morris from Iowa State
Morris is the best true point guard in the nation. Period. The senior point guard led the Cylcones to a near Sweet-16 appearance, losing to Swannigan's Boiler Makers by four during one of his worst games of the season (he had 18 points, 9 assists, 3 steals and shot 7-15, but 3 turnovers). Throughout his senior campaign, and the Cyclones 35-games, Monte had just 42 turnovers. That is 1.2 per game. He averaged 6.2 assists a night and was the primary ball handler, playing 35.3 minutes a night. That is INSANE. During his four year career, Monte appeared in 140 games. Turned it over 152 times. Yes, all four years combined to 152 turnovers. He played 4,734 minutes. Was the primary ball handler and the point guard. Amazing.
29] San Antonio Spurs select Donovan Mitchell from Louisville
Mitchell gives it his all on defense, and has some good athleticism. His jumper needs work, but so did Kawhi's (in no way am I saying Mitchell will equal Kawhi). I wouldn't be shocked to see his stock explode when scouts see his athleticism during work-outs and the combine, however.
30] Utah Jazz (via Golden State Warriors) select Kyle Kuzma from Utah
Kuzma had a decent three year run with the Utes, and the Jazz take a flier on a homegrown talent.